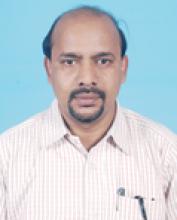 Centre/School/Special Centre:
Email:
acmondal@mail.jnu.ac.in , amal_mondal@rediffmail.com
Areas of Interest/Specialization:
Neurobiology of Depression, Alzheimer's and Parkinson's disorders.
Experience:
10 Years (Asst. Professor in Human Physiology) at RPM College, Uttarpara, (University of Calcutta), (W.B.)
Awards & Honours:
* DBT funded project on Effect of naturally occurring as well as synthetic cyclic molecules on inhibition of beta amyloid aggregation in vivo and in vitro. DBT, 2017--2020
* UPE-II funded project on Role of β-Breaker di-peptide for amyloid disruption in Alzheimer's Disease: A novel therapeutic approach in in vitro model" 2016-2019
* DBT funded project on "Arresting Pre Fibriller Aggregates of Alzheimer's Amyloid by Synthetic Antibodies" 2013-2016
* LSRB-DRDO funded project on ""Role of MAP Kinase in behavioral model of depression: Effect of chronic antidepressant treatment" 2012-2015
* SERB-DST funded project on "Role of neurotrophins in stress and depression" 2010-2013
* UGC sponsored project on "Role of Monoamine Neurotransmitters in Learned Helplessness Behavior and Depression in Rat Model.", 2008-2010
* Dr. A. Namasivayam Award by IABMS, 2016
* International Travel Grant from UGC, 2013
* Dr. K. Anji Reddy Prize by 23rd Annual conference of PSI & Doctors Reddys, 2011
* Fellow of UIC (Chicago), 2003-2005
* Young Scientist Award by Indian Science Congress Association, 2000. 
International Collaboration/Consultancy:
Best Peer Reviewed Publications (upto 5):
 1. Fatima M, Srivastav S, Ahmad MH, Mondal AC* (2019). ­Effects of chronic unpredictable mild stress induced prenatal stress on neurodevelopment of neonates: Role of GSK-3β. Scientific Reports (Nature Publishing Group) 2019 Feb 4, 9 (1):1305 (doi: 10.1038/s41598-018-38085-2)
2. Srivastav S, Fatima M, Mondal AC* (2018). Bacopa monnieri attenuates paraquat induced toxicity in Drosophila by inhibiting apoptosis through redox stabilization and improved mitochondrial function. Neurochemistry International 2018 Oct 5. 121 (2018) 98-107 doi: 10.1016/j.neuint.2018.10.001.
3. Kumar S., Paul A, Kalita S, Kumar A, Srivastav S, Hazra S, Ghosh AK, Mandal B, Mondal AC* (2017). A Peptide Based Pro-Drug Ameliorates Amyloid-β Induced Neuronal Apoptosis in in vitro SH-SY5Y cells. Current Alzheimer Research 2017, 14 (12) 1293-1304, E-pub-Jul 13. (doi: 10.2174/1567205014666170713153414)
4. Kumar S, Paul A, Kalita S, Ghosh AK, Mandal B and Mondal AC* (2017). Protective effects of β-sheet breaker α/β hybrid peptide against Amyloid β induced neuronal apoptosis in vitro. Chemical Biology and Drug Design, 2017 Jun; 89(6):888-900. doi: 10.1111/cbdd.12912. Epub 2016 Dec 20
5. Kumar S. and Mondal AC*(2016).  Neuroprotective, neurotrophic and anti-oxidative role of Bacopa monnieri on CUS induced model of depression in rat. Neurochemical Research 2016 Nov; 41(11):3083-3094.
Recent Peer Reviewed Journals/Books (upto 3):
1. Fatima M, Srivastav S, Mondal AC*. Prenatal stress and depression associated neuronal development in neonates. International Journal of Developmental Neuroscience, 2017 Apr 4; 60:1-7. doi: 10.1016/j.ijdevneu.2017.04.001.
2. Srivastav S., Fatima M, Mondal AC*. Important medicinal herbs in Parkinson's disease pharmacotherapy. Biomedicine & Pharmacotherapy 2017 June 06, 92: 856-863 (doi: 10.1016/j.biopha.2017.05.137)
3. Anand SK, Mondal AC*. Cellular and Molecular attributes of Neuronal Stem Cell Niches in Adult Zebrafish Brain. Developmental Neurobiology 2017, June 07 (doi: 10.1002/dneu.22508)