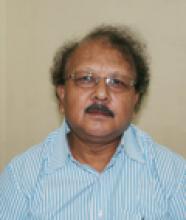 Centre/School/Special Centre:
Centre for International Trade and Development,
School of International Studies
Email:
alokeshbarua@mail.jnu.ac.in , alokeshb@hotmail.com
Areas of Interest/Specialization:
Economics/International Trade 
Awards & Honours:
Commonwealth Scholarship
Fulbright Award
DFG Award 
International Collaboration/Consultancy:
Collaborated with:
Professor R. M. Stern, University of Michigan, Ann Arbor, USA;
Professor Karlhans Sauernheimer, Mainz University, Germany;
Professor Kishore Gawande, Bush School of Government and Public Service, USA 
Best Peer Reviewed Publications (upto 5):

1. Alokesh Barua and M. Agarwal (1994), "Effects of entry in a model of oligopoly with international trade", Journal of International Trade & Economic Development, 3 (1): 1 - 13 
2. Alokesh Barua and S. K. Das (1996), "Regional Disparity, Economic Growth and Liberalization: A Study of the Indian Economy", Journal of Development Studies, 32 (3): 364 – 390 
3. Alokesh Barua and M. Agarwal (2004), "Entry Liberalization and Export Performance: A Theoretical Analysis in a Multi-market Oligopoly Model", Journal of International Trade & Economic Development, 13 (3): 287 -303 
4. Alokesh Barua and Pavel Chakraborty (2010), "Does Openness Affect Regional Inequality? A Case Study for India, Review of Development Economics, 14 (3), 447 – 465 
5. Alokesh Barua, Debashis Chakrabortyand Hariprasad C. G (2011), "Entry, Competitiveness and Exports: Evidence from the Indian Firm Data", Journal of Industry, Competition and Trade
Recent Peer Reviewed Journals/Books (upto 3):

1. Alokesh Barua and R. M. Stern, ed. (2010), The WTO and India: Issues and Negotiating Strategies, Orient Blackswan, New Delhi. 
2. Alokesh Barua, (2005), India's North East: Developmental Issues in a Historical Perspective , ed., Manohar Publication, New Delhi. 
3. Alokesh Barua et al (1998), Indian Economy in Transition: Environmental and Development Issues (ed.) (in collaboration with others), Har-Anand Publications, New Dehi, India