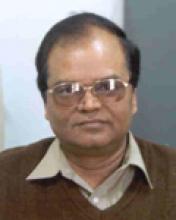 Centre/School/Special Centre:
School of Physical Sciences
Email:
ap0700@mail.jnu.ac.in , apandey2006@gmail.com
Qualifications:
Ph.D. (Rochester 1978), M.Sc. (BHU 1974)
Areas of Interest/Specialization:
Random Matrix Theory, Quantum Chaos, Statistical Nuclear Physics. My research deals with various types of random matrices and their applications to quantum chaos, nuclear physics, mesoscopic systems, communication theory and time series problems. 
Experience:
1978† 1980 Research Associate, Rochester, NY, USA 
1980 – 1981 & 1983, Research Associate, Orsay, France 
1981 – 1983 Research Associate, Saclay, France
1983 – 1987 Senior Research Associate, Rochester, NY, USA
1987 - 1996 Associate Professor, SPS, JNU, New Delhi
1997 - 1999 Dean, SPS, JNU, New Delhi
1996 - to date Professor, SPS, JNU, New Delhi  
Best Peer Reviewed Publications (upto 5):
1. Random-matrix physics: spectrum and strength fluctuations, T.A. Brody, J. Flores, J. B. French, P. A. Mello, A. Pandey and S. S.M. Wong, Rev. of Mod. Phys. 53, 385-479, (1981)

2. Fluctuation properties of nuclear energy levels: Do theory and experiment agree?, R.U. Haq, A. Pandey and O. Bohigas, Phys. Rev. Lett. 48, 1086-1089, (1982)

3. Gaussian ensembles of random Hermitian matrices intermediate between orthogonal and unitary ones, A Pandey and ML Mehta, Comm. Math. Phys. 87, 449-468, (1983)

4. Brownian-motion model of discrete spectra, A. Pandey, Chaos, Solitons & Fractals 5, 1275-1285, (1995)

5. Skew-Orthogonal Polynomials and Universality of Energy-Level Correlations, A. Pandey and S. Ghosh, Phys. Rev. Lett. 87. 024102 (1-4), 2001 
Recent Peer Reviewed Journals/Books (upto 3):

1. Vinayak and A. Pandey, Correlated Wishart Ensembles and Chaotic Time Series, Phys. Rev. E 81, 036202 (1-17), (2010)
2. S. Kumar and A. Pandey, Crossover Ensembles of Random Matrices and Skew - Orthogonal Polynomials, Ann. Phys. 326 1877-1915, (2011)
3. Saturation of number variance in embedded random-matrix ensembles, R. Prakash and A. Pandey, Phys. Rev. E 93, 052225 (1-13), (2016)