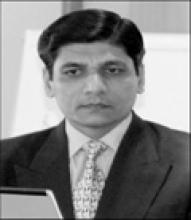 Centre/School/Special Centre:
Centre for International Legal Studies,
School of International Studies
Email:
desai@mail.jnu.ac.in desai@jnu.ac.in
Qualifications:
LL.B., LL.M., M.PHIL., PH.D.
Areas of Interest/Specialization:
International Law; International Environmental Law; International Humanitarian Law; International Criminal Law; International Dispute Settlement 
Experience:
Teaching & Research since Dec.1987 
International Collaboration/Consultancy:
* Awardee of the United Nations/UNITAR Fellowship in International Law, 1988.
* Awardee of the European Community Visitor Fellowship, 1993.
* Awardee of the Alexander von Humboldt Fellowship 1998-99, May-July 2000, May 2001, June-July 2003, May-July 2006, September 2012, June-July 2014.
* Awardee of the United Nations University [EHS-Bonn] and IHDP, Bonn Visitor Fellowship, May-August 2006. 
Best Peer Reviewed Publications (upto 5):
International Environmental Governance: Towards UNEPO? (Boston, USA: Brill/ Nijhoff, June 2014)
Multilateral Environmental Agreements: Legal Status of the Secretariats (New York, NY: Cambridge University Press, 2010); Paperback edition 2013)
Implementation of the Convention on Biological Diversity in the Hindu-kush Himalayan Region (Kathmandu: ICIMOD, 2011) [with Oli, Sharma]
"The Quest for a United Nations Specialized Agency for the Environment", The Roundtable: The Commonwealth Journal of International Affairs (Routledge, London), Vol. 101, No. 2, 1–12, April 2012.
"The Policy & Law for Combating Climate Change in India", Environmental Policy & Law (Amsterdam: IOS Press), vol.43, no.4-5, 2013.
Recent Peer Reviewed Journals/Books (upto 3):
International Environmental Governance: Towards UNEPO? (Boston, USA: Brill/ Nijhoff, June 2014).
Multilateral Environmental Agreements: Legal Status of the Secretariats (New York, NY: Cambridge University Press, 2010); Paperback edition 2013).
Initiated and Coordinate Research Networks: Inter-disciplinary and Inter-University Consortium on Himalayan Cryosphere, Atmosperic Aerososols and Geo-spatial Information Systems [with 4, 4 and 9 Partner Universities]