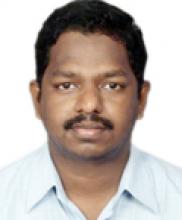 Centre/School/Special Centre:
Centre for International Legal Studies,
School of International Studies
Qualifications:

B.A.L.; LL.B. (Kerala University, Trivandrum);
LL. M. (National Law School of India University, B'lore); 
M.Phil (Jawaharlal Nehru University, New Delhi);
UGC NET for Lectureship (Law) 
Areas of Interest/Specialization:
Experience:

1. Assistant Professor in International Law, Centre for International Legal Studies, School of International Studies, JNU, New Delhi (since 12 Dec 2012). 
2. Assistant Professor (Law), Department of Law, Central University of Sikkim, Gangtok, Sikkim (12 March 2012- 07 Dec 2012). 
3. Assistant Professor (Law), School of Legal Studies & Research, Noida International University, Greater Noida, U.P. (01 Sept 2011-March 05, 2012). 
Awards & Honours:
1. Fellowship of the Chinese Academy of International Law for participating in its Summer Course Programme at Xiamen (China), July 2015.
2. Asian Environmental Law Champions Development Award, Asian Development Bank, Manila (Philippines), March 2015. 
3. Invited for membership of World Commission on Environmental Law, IUCN (International Union for Conservation of Nature), Gland, Switzerland, in 2015. 
4. Fox International Fellow, Whitney and Betty Mac Millan Centre for International and Area Studies, Yale University, New Haven, CT ( USA), 2007-08. 
Best Peer Reviewed Publications (upto 5):

"Responsibility and Liability for Transboundary Environmental Harm: A Legal Analysis", Journal of International Academic Research for Multidisciplinary, Volume 2, Issue 7 (2014), pp. 60-98, ISSN: 2320-5083.
"International Protection of Children: A Legal Appraisal", International Journal of Law and Legal Jurisprudence Studies, August 2014, Vol. 1, Issue 5, pp. 1-22, ISSN: 2348-8212.
"The Liability Question under Multilateral Environmental Agreements: An Appraisal" in KD Raju (ed.), Genetically Modified Organisms: Emerging Law and Policy in India, New Delhi: TERI, 2007, ISBN: 81-7993-126-9. 
Recent Peer Reviewed Journals/Books (upto 3):
2015), "Legal Aspects of Transnational Energy Pipelines: A Critical Appraisal", European Networks Law & Regulation, 2: 103-116, ISSN Print 2197-4446 • ISSN Online 2197-4454.