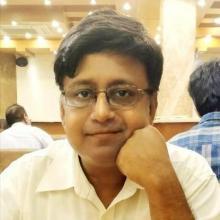 Centre/School/Special Centre
Special Centre for Molecular Medicine
Qualifications
Postdoctoral Training (Immunology): The Cleveland Clinic Ohio, USA
Doctoral (Biotechnoloy): Jadavpur University Kolkata, India
Masters' (Microbiology): M.S. University Baroda, India
Areas of Interest/Specialization
Early host-microbe interactions, Biofilms, Quorum signaling, Innate immunity, Healthcare Associated Infections, Neonatal Sepsis, Antimicrobial Resistance, Probiotics, Metabolomics.
Experience
2008 - present ; Assistant Professor, Special Centre for Molecular Medicine, Jawaharlal Nehru University, New Delhi, India
2009-2012 - Faculty-In-Charge, Mass Spectrometry Laboratory, Advanced Instrumentation Facility, Jawaharlal Nehru University, New Delhi, India
2003-2008 (Feb.) - Faculty Scientist, Indian Institute of Technology, Kharagpur, India
1997-2002 - Postdoctoral Fellow, Department of Immunology & Department of Gastroenterology, The Cleveland Clinic Foundation, USA.
Awards & Honours
Merlin Bumpus Best Investigator Award, USA, 2001.
International Collaboration/Consultancy
Prof. Sanjoy K. Bhattacharya, Bascom Palmer Eye Institute, Florida, U.S.A (Lipidomics).
National Collaborations:
The Indian Neonatal Sepsis Consortium (AIIMS-Del, NII, ICGEB, TSHTI, IGIB & IIIT).
Prof. Rakesh Lodha, Department of Pediatrics, All India Institute of Medical Sciences, New Delhi (Hospital Associated Infections).
Dr. Venkat Panchagnula, National Chemical Laboratory, Pune (Laser Desorption Ionization Mass Spectrometry).

Best Peer Reviewed Publications
1. Lahiri P., Dhaware D., Singh A., Panchagnula V. & Ghosh D. (2019) Quantitation of Neurotoxic Metabolites of the Kynurenine Pathway by Laser Desorption Ionization Mass Spectrometry (LDI-MS). Methods Mol Biol 1996, 113-129,
2. Pompilio A, Crocetta V, Ghosh D et al. (2016) Stenotrophomonas maltophilia phenotypic and genotypic diversity during a 10-year colonization in the lungs of a cystic fibrosis patient. Frontiers in Microbiology 2016; 7: 1551
3. Pluháček T, Lemr K, Ghosh D, Milde D, Novák J and Havlíček V (2016) Characterization of Microbial Siderophores by Mass Spectrometry. Mass spectrometry Reviews. 35: 35-47
4. Ghosh D., Salzman NH, Huttner KM, Paterson Y, Bevins CL. Protection against enteric salmonellosis in transgenic mice expressing a human intestinal defensin. Nature. 422:522-6.Commentary: Ganz T. Microbiology: Gut defence. Nature. 422:478-9.
5. Ghosh D., Porter E, Shen B, Lee SK, Wilk D, Drazba J, Yadav SP, Crabb JW, Ganz T, Bevins CL. Paneth cell trypsin is the processing enzyme for human defensin-5. Nat. Immunol. 3:583-590. Commentary: Zasloff M. Trypsin, for the defense. Nat Immunol. 2002 Jun;3(6):508-10.
Recent Peer Reviewed Journals/Books
Patents (if any)
1. Selective Detection and Analysis of Small Molecules Ghosh D., Dharware D. and Panchagnula V. Jawaharlal Nehru University, New Delhi and Central Scientific and Industrial Research (CSIR), New Delhi. (Ind) 407/DEL/2011; (EPO) EP2676287A2 ; (USPTO) 20130323849A1. Technology Ready for Transfer.