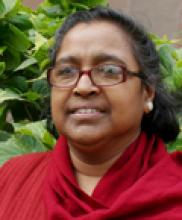 Centre/School/Special Centre:
School of Computational and Integrative Sciences
Email:
indirag@mail.jnu.ac.in indira0654@gmail.com
Areas of Interest/Specialization:
Computational & systems biology, Modeling & Simulation in drug design. 
Experience:
13 years in Industry & 15 in academic
Awards & Honours:
Fulbright Scholar (Senior) awarded by U.S.E.F.I. 1983 to 1986.
Robert Welch Foundation Fellow at the University of Houston, Texas, 1983 to 1986.
Member of Molecular Graphics Society ,UK. Since 1996
Member of QSAR & Chemoinformatics Society since 2004
Life Member of Indian Biophysical society.
Member of Society of Biological Chemists , India.
Member of American Chemical Society since 2004 
International Collaboration/Consultancy:
Best Peer Reviewed Publications (upto 5):
1. Rama Kaalia,Amit Kumar,Ashwin Srinivasan, and Indira Ghosh;, An Ab Initio Method for Designing Multi-Target Specific Pharmacophores using Complementary Interaction Field of Aspartic Proteases. Mol. Inf. (2015), 34, 2-16
2. Amit Kumar, Nidhi Agarwal, Lalit Pant, Jay Prakash Singh, Indira Ghosh, Naidu Subbarao; PfalDB: An Integrated Drug Targets and Chemical Database for Plasmodium falciparum. Current Drug Targets(2014),15,12,1089-1093.
3. Ashutosh Shandilya, Sajeev Chacko, B. Jayaram & Indira Ghosh ; A plausible mechanism for the antimalarial activity of artemisinin: A computational approach in Nature SCIENTIFIC REPORTS (2013) August29, 3 : 2513 DOI: 10.1038/srep02513
4. Rentala Madhubala, V S Gowri, Indira Ghosh, Amit Sharma; Unusual domain architecture of aminoacyl tRNA synthetases and their paralogs from Leishmania major, in BMC Genomics ( 2013).
5. Vivek Kumar Singh, Indira Ghosh ; Methylerythritol phosphate pathway to isoprenoids: Kinetic modelingand in silico enzyme inhibitions in Plasmodium falciparum. in FEBS LETTERS (2013) .  
Recent Peer Reviewed Journals/Books (upto 3):
1. Rama Kaalia, Ashwin Srinivasan,Amit Kumar and Indira Ghosh; ILP-assisted de novo drug design. Machine Learning June 2016, Volume 103, Issue 3, pp 309–341, published online DOI 10.1007/s10994-016-5556-x.
2. R. Kaalia, I. Ghosh, Semantics based approach for analyzing disease-target associations, Journal of Biomedical Informatics 62 June (2016) 125–135.
3. Khan, Taushif; Ghosh, Indira. Modularity in protein structures: A study on all alpha proteins. Journal of Biomolecular Structure & Dynamics(Feb 2015)http://dx.doi.org/10.1080/07391102.2014.1003969 
Patents (if any):
1. Copyright on the Graphics SW MOGRA ,developed by Ms. N.V.Ramana & Indira Ghosh has been done in 1992.
2. A patent application in the category of "New Patent Application" has been granted in UK, June2005 on behalf of AstraZeneca, on the TB associated target for drug design.