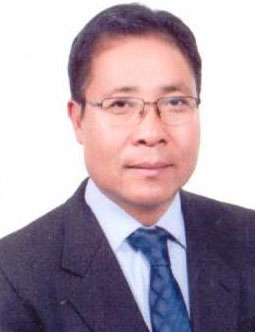 Joint Registrar, Academic, SC/ST/OBC Cell and OSD to VC
About:
Sh. Kh. Siile Anthony was born on 9.6.1969. Did his schooling from Don Bosco School, B.Sc. (Hons.) from Hindu College, Delhi University, MA (Public Administration) from Rajasthan University and MBA (Human Resource Management) from IGNOU. Has more than 20 years of administrative experience and was working as Deputy Registrar (Admn.) and also holding the charge of Estate Officer of the University, Vigilance & Confidential Cell, Hindi Cell, etc. Past assignments include: 
• Deputy General Manager (HR) at National Small Industries Corporation Ltd., Ministry of MSME, Government of India.
• Research Officer (Planning) at North Eastern Council, Shillong, Ministry of DONER, GoI
• Administrative Officer at National Institute of Rural Development, Ministry of Rural Development, GoI
• Section Officer at Central Electronic Engineering Research Institute (CEERI), Pilani, a constituent Unit of CSIR
• Central Assistant Intelligence Officer, Ministry of Home Affairs, GoI.
Awarded the Best Employer 2010-11 "HR Leadership Award".
1. Attended various training programmes and a trainer.
2. An active social worker and participated in various forums as a penalist and speaker.
3. Was a member of various committees such as Member Secretary, North East Educational Council, Management Council Member of NIRD and Selection Committee Member in many reputed Institutes.