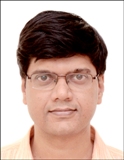 Joint Registrar (On lien)
Email:
E‐mail: dhar@mail.jnu.ac.in / shankardhar@gmail.com
About:
Joint Registrar (Finance) w.e.f.18.11.2014
Directly recruited as Deputy Registrar w.e.f. 24.03.2008  
Current Work areas:
Budget – UGC Plan and Non‐Plan budget, allocations to departments
Accounts – Annual Accounts, Finance Committee, CAG Audit
Internal Audit – Pre‐audit on referral basis and post‐audit of departments
Additional responsibilities ‐ Member on following JNU committees:   First Level Grievance Redressal Committee Departmental Promotion Committee Screening Committee for MACP House Allotment Committee 
Other professional activities: Delivering lectures at UGC Academic Staff College on Financial Management in Universities.  Selection Committee member/Paper setter cum examiner.
Qualifications: M.Com, LL.B. Professional Qualifications: Accounting Technician (Institute of Chartered Accountants of India); Two Years Post Graduate Diploma in Educational Administration (PGDEA) from Symbiosis, Pune.
Training undergone:
1. International Training programme in Budgeting, Accounting and Financial management at ICPE, Ljubljana, Slovenia (Europe) and at NIFM, Faridabad.
2. Orientation Programme in Management of University Finances at NUEPA, New Delhi.
3. Financial Systems, Management and Accountability in Government at Administrative Staff College of India (ASCI), Hyderabad.