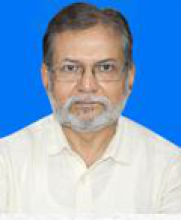 Centre/School/Special Centre
School of Environmental Sciences
Residence
011-26741631 / 09313908512
Email
saumitra@mail.jnu.ac.in, saumitramukherjee3@gmail.com
Qualifications
PDF: (Commonwealth Fellow). Remote sensing applications in Water resources, Earth & Ocean Sciences, The University of Liverpool, Liverpool, UK.
Ph.D: Geology, Banaras Hindu University, Varanasi
PhD Topic (Geology & Geochemistry of Pegmatites and Associated Rocks of Jorasemar and Sapahitola Area District Bihar with special reference to Applications of Remote Sensing Techniques in Exploration of Natural Resources) September 1989, 365 Pages
M.Sc.: Geology, Banaras Hindu University, Varanasi, 1st Div
B.Sc. : Geology, Botany, Chemistry, Banaras Hindu University, Varanasi, 1st Div PGD: Environment & Ecology, IIEE, New Delhi., 1st Div
Certificate: Remote Sensing & GIS, RRSSC, IIT Kharagpur, West Bengal
Certificate: Groundwater Exploration and Management, CGWB, Govt.of India.
Certificate: Certificate: The EOS Platform on Earth Observing System Italy(ID: 13830538) GEO University 2019
Certificate: Asteroid Defense 101, The Planetary Society California USA 2019
Certificate: Sentinel Hub Webinar Series GIS and Earth Observation University, Estonia Certificate ID:le4ysndcjb Issued:2021-07-25
Areas of Interest/Specialization
Geology, Remote sensing, Space Sciences & GIS applications in Environmental Geosciences
Experience
Have 37 years experience in Remote sensing Applications in Geosciences.
2006-till date: Professor (Geology & Remote sensing) SES/JNU
2004-2005: Visiting Professor, Earth& Ocean Sciences, The University of Liverpool,UK
1998-2006: Associate Professor(Remote sensing) SES/JNU
1992-1998: Assistant Professor (Remote sensing)SES/JNU New Delhi
1989-1992: Scientist-C, Remote Sensing Applications Center, UP, Lucknow.
1985-1989: Hydrogeologist Central Ground Water Board, Calcutta.
Awards & Honours
Excellence in Groundwater Science Award of INC-IAH-2016 New Code of Education Award 2022
Appointed Member of Excellence in Geophysical Award Committee of American Geophysical Union, USA (2010-2012) (Representing India)
UGC Professor of Geology, Remote sensing and Space Sciences (2008) Invited as a speaker (represented India) in NASA supported International Heliophysical Year 2007 at Physics Center, Bad Honnef Germany on "Influence of Sun and other cosmic factors on Environment of the Earth".(1.5.07-20.5.07)
Commonwealth Fellow (2004-2005) at Department of Earth and Ocean Sciences The University of Liverpool, Liverpool, UK. Designated as Visiting Professor by the University authorities.
Educator Associate (2003-till date) at AIAA (American Institute of Aeronautics and Astronautics), USA.
British Association of Sciences Award for popularizing Sun-Earth connection in Liverpool, UK. (2004-2005)
UGC Associate (2002-2003). The work includes development of curriculum for Remote sensing application in Geosciences in Indian Universities.
Recipient of Award from Ministry of Environment and Forest in 2003 for writing a book on "New trends in ground water Research" published in 2006.
International Collaboration/Consultancy
International Collaboration with:
1. NASA(USA) on Sun-Earth Cosmic Connection
2. University of Wyoming (Laramie) USA on Arsenic removal from Groundwater
3. European Space Agency (Italy)
4. World Water Forum (Convener of Groundwater Theme in Japan 2003)
5. European Geosciences Union (Convener of Hydrogeology in NICE 2004)
6. Member, European Fleet For Airborne Research, France
7. Member, SOC, JPL/CALTECH/NASA, USA.
8. Member AIAA, USA
9. Member, AOARD Japan
10. Member,GEOCHANGE,UK
11. Cosmic Ray Division (Armenia) http://crd.yerphi.am/JNU_SEVAN_Data
Best Peer Reviewed Publications
Saumitra Mukherjee, N Roy, P Singh and D Singh. (2022). Characterization of surface topography and mineralogy of Cardanus and Krafft craters in the western Procellarum region of Moon. J.Earth.Syst.Sci. (2022) 131:181 https://www.nature.com/articles/d44151-022-00089-3
Saumitra Mukherjee, Singh D, Singh, P and Roy N.(2020). Morphological and Morphometric analysis of a topographic depression near Huygens basin, Mars: identification of a putative endorheic playa. Geomorphology, Vol.351, 106912 https://doi.org/10.1016/j.geomorph.2019.106912
Singh, D; Sinha R.K and Saumitra Mukherjee (2022). Astrobiological potential of Fe/Mg Smectites with special emphasis on Jezero crater, Mars 2020 landing site Astrobiology, Issue 5(https://doi.org/10.1089/ast.2021.0013).
Mukherjee, S. (2009). Sensible measures to guard India's groundwater supply. Nature. Volume, 462,276 (19 November 2009), doi: 10/462276d.
Mukherjee Saumitra. (2008) Role of Satellite Sensors in Groundwater Exploration. Sensors2008,8,2006-2016
Mukherjee Saumitra. (2008).Cosmic Influence on Sun-Earth Environment. Sensors 2008,8,7736-7752;DOI:10.3390/s8127736
Mukherjee, S., et,al. (2003). Role of Remote sensing and GIS techniques for generation of groundwater prospect zones towards rural development- an approach. International Journal of Remote Sensing, 2003 Vol.24, No.5, 993-1008
Mukherjee, S., et,al (2002). Forest fire risk zone mapping from satellite imagery and GIS. International Journal of Applied Earth Observation and Geoinformation, 4(2002) 1-10
Saumitra Mukherjee and Priyadarshini Singh (2015). Identification of Tectonic deformations on the South Polar surface of the Moon. Planetary and Space Science, 112(2015), 46-52
Recent Peer Reviewed Journals/Books
Mukherjee, Saumitra (2023). Extraterrestrial Remote Sensing and Climate Change. Publisher ‏: ‎Wiley; 1st edition (9 December 2022). Hardcover ‏: ‎ 176 pages ISBN-10 ‏: ‎ 1119164621 ISBN-13 ‏: ‎ 978-1119164623
Mukherjee, S. (2006). Earthquake Prediction. Published by Brill Academic Publishers Koninklijke Brill NV, Leiden (The Netherlands) & Boston (USA). ISBN-10: 90 6764 450 1 and ISBN-13 (i) 978 9067644 50
Mukherjee, S. (2004). Text Book of Environmental Remote Sensing. Published by Macmillan India Limited New Delhi ISBN: 1403922357. INBK103842 http://www.macmillanindia.com
Mukherjee, S. (2007). New Trends in Groundwater Research. ISBN: 1-906083-03-7, COOPERJAL LTD London, UK. http://www.ideaindia.com
(Total number of Books 11)
Patents (if any)
Influence of Sun and other cosmic factors on Earth's Space Weather Environment (No FA48690714096)