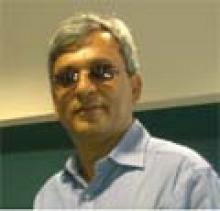 Centre/School/Special Centre:
Centre for the Study of Regional Development,
School of Social Sciences
Email:
amareshdubey@mail.jnu.ac.in , dubey.amaresh@yahoo.com
Qualifications:
M. A. (Economics), BHU, Varanasi; 
Ph. D. (Economics), IIT Bombay
Areas of Interest/Specialization:
Poverty, Inequality, Education and Labour Markets, Development Economics 
Experience:
Teaching and Research over 25 years 
International Collaboration/Consultancy:
1. India Human Development Survey, University of Maryland, College Park and National Council of Applied Economic Research, New Delhi.
2. Intra-household Allocation of Resources, School of International Development, University of East Anglia, Norwich (With Arjan Verschoor).  
Best Peer Reviewed Publications (upto 5):
1. "Does Intra-household Discrimination Account for the Bulk of India's "Missing Women?" (with Arjan Verschoor), Journal of South Asian Development, Vol. 2, No. 1, pp. 1-17, 2007.

2. "Has Job Reservations in India Been Effective? Caste, Religion, and Economic Status" (with Vani K. Borooah and Sriya Iyer), Development and Change, Vol. 38, No. 3, pp. 423-445, 2007.

3. "Surplus Labour, Social Structure and Rural to Urban Migration: Evidence from Indian Data" (with Richard Palmer-Jones and Kunal Sen), European Journal of Development Research, Vol. 18 No.1, Pp. 89-107, 2006.

4. "Occupational Structure and Incidence of Poverty in Indian Towns of Different Sizes" (with Shubhashis Gangopadhyay and Wilima Wadhwa), Review of Development Economics, Vol. 5 No. 1, pp.49-59, 2001.

5. Counting the Poor: Where are the Poor in India? (with Shubhashis Gangopadhayay), Sarvekshana Analytical Report No. 1, Department of Statistics, Ministry of Planning, Government of India, New Delhi, February, 1998. 
Recent Peer Reviewed Journals/Books (upto 3):
1. "Has Growth been Socially Inclusive during 1993-2010" (with Sukhadeo Thorat), Economic and Political Weekly, Vol. 47 (11), Pp. 43-54, 2012.

2. "'Caste in 21st Century India: Competing Narratives" (with Sonal Desai), Economic and Political Weekly, Vol. 46 (11), Pp. 40-49, 2011.

3. Human Development in India: Challenges before a Society in Transition (with Sonalde Desai et al), Oxford University Press, New Delhi, 2010.