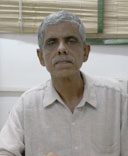 Centre/School/Special Centre:
Centre for the Study of Social Systems,
School of Social Sciences
Areas of Interest/Specialization:
Sociology of Modernization, Social Theory, Sociology of Education 
Experience:
23 Years of Teaching/Research 
Best Peer Reviewed Publications (upto 5):
1. Indian Modernity: Contradictions, Paradoxes and Possibilities, Gyan Books, Delhi, 1998.

2. Social Implications of Schooling: Knowledge, Pedagogy and Consciousness, Rainbow, New Delhi, 2002.

3. Modernity, Globalization and Identity: Towards a Reflexive Quest, Aakar Books, New Delhi, 2006.

4. Recalling the Forgotten: Education and Moral Quest, Aakar Books, New Delhi, 2009. 
Recent Peer Reviewed Journals/Books (upto 3):
The Rhythm of Life and Death, Aakar Books, New Delhi, 2011