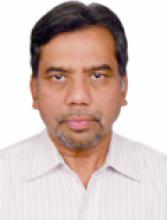 Centre/School/Special Centre:
School of Physical Sciences
Email:
bohi0700@mail.jnu.ac.in , bohidar@hotmail.com
Qualifications:
Ph. D. (Indian Institute of Technology, Delhi, 1982)
Areas of Interest/Specialization:
Soft Matter, Nanosciences, Biophysics 
Experience:
Post Doc: 1983-1985 - University of Grenoble, France
1985-1988 - Institute of Physics, Oslo, Norway 
1998-til date - Professor, JNU, New Delhi
Visiting Professor : 1999-2000: Purdue University, USA 
2006 : University of New South Wales, Australia 
International Collaboration/Consultancy:
Prof. P. Dubin-University of Massachusetts
Prof. M. Dotty-University of Delaware, USA
Best Peer Reviewed Publications (upto 5):
1. Ergodicity breaking and aging dynamics in Laponite- Montmorillonite mixed clay dispersions, Ravikumar Pujala and H.B. Bohidar, Soft matter (2012), 8, 6120-6127.

2. DNA-Gelatin Complex Coacervation, UCST and First-Order Phase Transition of Coacervate to Anisotropic Iongel in 1-Methyl-3-Octyl Imidazolium Chloride Ionic Liquid Solutions, Kamla Rawat and H. B. Bohidar, J. Phys. Chem. B, 116, (2012), 14805-14816.

3. Condensation, complex coacervation and over charging during DNA-gelatin interaction in aqueous medium, Najmul Arfin and H. B. Bohidar, J. Phys. Chem. B., 116 (2012), 13192-131-99.

4. Slow Dynamics, Hydration and Heterogeneity in Laponite nanoclay Dispersions, Ravikumar Pujala and H.B. Bohidar, Soft matter (2013) 9, 2003-2010.

5. Negative differential resistance in nanoclay films offers pressure sensing characteristics, Nisha Pawar, H. B. Bohidar, A. Sharma and S. Ghosh, Appl. Phys. Lett. (2013), 102, 103109. 
Recent Peer Reviewed Journals/Books (upto 3):
Recent Books:
Fundamentals of Polymer Physics and Molecular Biophysics (Cambridge University Press, 2013, in print)
Patents (if any):
Un-functionalized Carbon Nanoparticles having Fluorescence Characteristics, Method of Preparation Thereof, and their Use as Bioimaging and Solvent Sensing Agents". Indian Patent appl. No. 2184/DEL/2010. International: PCT/IN2011/000610