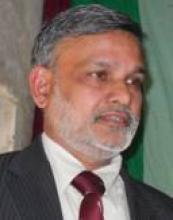 Centre/School/Special Centre:
Centre for Canadian, US and Latin American Studies,
School of International Studies
Email:
chintamani@mail.jnu.ac.in , prof.chintamanimahapatra@gmail.com
Areas of Interest/Specialization:
American Studies, US foreign and National Security Policy, International Security, Asian Security, Globalization etc.
Experience:
above 37 years of research and 18 years of teaching experience; have participated in Track II diplomacy
Awards & Honours:
Tagore Chir Professor at Yunnan University, Fulbright Scholar, Commonwealth Scholar, Foreign Policy Fellow, University of Maryland, Visiting Fellow, Australian Defense Studies Centre; Salzburg Seminar Fellow
Best Peer Reviewed Publications (upto 5):
1. ) "The US Response to Instability in South Korea", in Caroline Thomas and P. Saravanamuttas, ed., State and Instability in the South (London, Macmillan, 1989). 
2.) "Sino-US Relations: Rhetoric and Reality", in Alexi Voskrosenski, ed., Redefining the Triangle: USA, Russia and China (New York, Nova Publishers, 1995). 
3.) "Political Trends in Southern Asia", Gran Via Minotauro Cipango (Madrid), February 1996.
4.) "Cooperative Efforts in the Indian Ocean Region", submitted to the Australian Defence Studies Centre, Australian Defence Force Academy, as part of the requirement of my association as a visiting Fellow, 1995. (It has been published by the ADSC as a working Paper in August 1996).
5.) "Bush's II Term: What It Means for Asia?" Asian Affairs (London), November 2004. 
Recent Peer Reviewed Journals/Books (upto 3):
US Approach to the Islamic World: Implications for India (New Delhi, Academic Foundation, 2009)

"The Muslim Factor in Indo-US Relations," Indian Foreign Affairs Journal, vol.1, no.4, Oct - Dec 2006.

"US Response to Emerging Trends in Asia," International Studies, 2004.