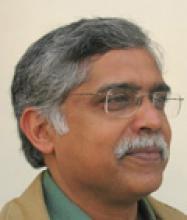 Centre/School/Special Centre:
Centre for Economic Studies and Planning,
School of Social Sciences
Email:
cpc@mail.jnu.ac.in , cpchand@gmail.com
Qualifications:
Ph.D (Economics): 1980, Jawaharlal Nehru University
Areas of Interest/Specialization:
Applied Macroeconomics and Development Economics with focus on Industry and Finance
Experience:
Current Appointment
Professor, CESP JNU, October 1997-

Past Appointments 
November 1992-September 1997 Associate Professor, CESP JNU
September 1991-October 1992 Lecturer, School of Oriental and African Studies, University of London
October 1986-August 1991 Associate Professor, CESP, JNU
October 1985-September 1986 Consultant Bureau of Industrial Costs and Prices, Ministry of Industry
October 1983-September 1985 Executive Editor, Deccan Herald group, Bangalore
July 1979-September 1983 Assistant Professor, CESP, JNU
January 1977-June 1979 Research Associate, Centre for Development Studies, Trivandrum 
Awards & Honours:
Malcolm Adiseshaiah Award for 2009 for contributions to economics and development studies
International Collaboration/Consultancy:
Member, Executive Committee, International Development Economics Associates (IDEAs), an international network of economists engaged in the promotion of teaching and research using heterodox approaches to economic issues (www.networkideas.org)
Member, Executive Committee, World Economics Association, http://www.worldeconomicsassociation.org. 
Best Peer Reviewed Publications (upto 5):
1. "Critical Perspectives on the Great Recession", Development and Change, Vol 43 Issue 2, April 2012, 603-613.

2. "Financial Liberalisation and Fragility in Developing Countries: The Indian Experience", Journal fur Entwicklungspolitik (Austrian Journal for Development Studies), Vol. XXVII 2-2011.

3. "India's New, High-Growth Trajectory: Implications for Demand, Technology and Employment", V.B. Singh Memorial Lecture, The Indian Journal Of Labour Economics, Vol. 54 No. 1, January-March 2011.

4. "The costs of 'coupling': The global crisis and the Indian economy", (co-authored with Jayati Ghosh), Cambridge Journal of Economics, 2009 33, pp. 725-739.

5. "Must Banks be Publicly Owned?", Economic and Political Weekly, Vol. XLIV No 13 March 28-April 3 2009 reprinted as "Learning from the crisis: Is there a model for banking?", in Jomo Kwame Sundaram (ed.), Reforming the International Financial System For Development, New York: Columbia University Press, 2010. 
Recent Peer Reviewed Journals/Books (upto 3):
1. "The Business Of News in the Age of the Internet", Social Scientist 480-481, Vol 41 Nos. 5-6, May-June 2013. Lawrence Dana Pinkham Memorial Lecture at the 13th Convocation of the Asian College of Journalism. Also available at:
http://www.thehindu.com/news/resources/the-business-of-news-in-the-age-of-the-internet/article4681152.ece
2. "Rethinking Regulation: International Banks in Asian Emerging Markets", in PSL (Paolo Sylos Labini) Quarterly Review (formerly Banca Nazionale del Lavoro Quarterly Review), Vol 64 n. 258, 2011.
3. "The Housing Market and Housing Finance under Liberalization in India", in Ashok Deo Bardhan, Robert Henry Edelstein, and Cynthia Anne Kroll (ed.), Global Housing Markets: Crises, Policies and Institutions, Robert W. Kolb Series in Finance, New Jersey: John Wiley & Sons, 2012.