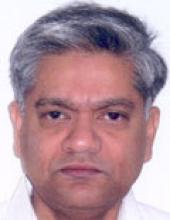 Centre/School/Special Centre:
Centre for International Politics, Organization and Disarmament,
School of International Studies
Areas of Interest/Specialization:
International Politics and Organization 
Awards & Honours:
1. Friedrich Ebert Stiftung Visiting Fellow at New York, 2007.
2. Fulbright Visiting Fellow, Columbia University, New York, 1993-94
3. Leverhulme Commonwealth Post-Doctoral Fellow, Keele University, 1983-84 
International Collaboration/Consultancy:
Research Project on "Global Norm Evolution and the Responsibility to Protect" in collaboration with the Global Public Policy Institute, Berlin, 2012-15. 
Best Peer Reviewed Publications (upto 5):
1. "Non-aligned Movement Countries as Drivers of Change in International Organizations", Comparativ, Vol. 23, Nos.4-5, 2013, pp.118-136.

2. "United Nations" in B.S. Chimni and Siddharth Mallavarapu, ed., International Relations: Perspectives for the Global South (Delhi: Pearson, 2012), pp.373-388.

3. "Ïndia`s Non-permanent Membership in the UN Security Council" in A.B. Sawant, ed., Sixty Years of India`s Contribution to the United Nations (New Delhi: Authorspress, 2010), pp.39-62.

4. "Unintended Consequences of United Nations Peace Operations for Troop Contributing Countries from South Asia" in Chiyuki Aoi, Cedric de Coning, and Ramesh Thakur, eds., Unintended Consequences of Peacekeeping Operations (Tokyo: United Nations University Press, 2007), pp.156-170. 

5. "Reforming the Security Council: An Asian View", South Asian Survey, Vol. 15, No.1, 1998, pp.113-24. 
Recent Peer Reviewed Journals/Books (upto 3):
1. [co-author] "International Responsibility as Solidarity: The impact of the World Summit negotiations on the R2P trajectory", Global Society, Vol.30, No.1, 2016, pp.38-53. 

2. "India`s Growing Involvement in Humanitarian Assistance" (co-authored with Claudia Meier), Berlin: Global Public Policy Institute Research Paper 13, 2011.

3. "Assessing India at the United Nations in the Changing Context", International Studies, Vol.47, Nos.2-4, 2010, pp.205-223.