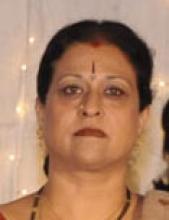 Centre/School/Special Centre:
Centre for Canadian, US and Latin American Studies,
School of International Studies
Qualifications:
Ph.D. in American Studies, SIS,JNU,New Delhi.
M.Phil in American Studies, SIS, JNU, New Delhi
M.A. in Centre for Political Studies, SSS, JNU 
Areas of Interest/Specialization:
US Government and Politics, Foreign policy formulation, patterns and process, Indo-US Relations and Prospects for Scientific Cooperation, US strategies and policies in South Asia, Indian Diaspora, Comprehensive and Non-traditional security 
Experience:
Above 21 years of teaching experience 
Awards & Honours:
Ford Foundation Faculty Fellowship, Senior Fulbright Post Doctoral Fellowship, Salzburg Seminar Fellow, Olive J. Reddick Award, Gilnour Award
International Collaboration/Consultancy:
1. Changing Congressional perceptions towards India, in Conflict and Cooperation in South Asia, 2006.
2. Changing Contours of Indo-US relations, Report of the National workshop on Indo-US Relations, NIAS, Bangalore, 2006.
3. Proliferation Security Initiative and Strategic Stability in South Asia, in Maritime Security in South Asia, 2007.
4. India and US Elections 2008 in US Election Monitor, Observer Research Foundation, 2008http://www.observerindia.com/cms/usem/issue9i/29expert.htm
5. American Worldview: Genesis history and evolution: Implications for India, South Asian Survey, 2008.