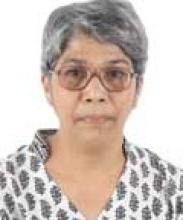 Centre/School/Special Centre:
Centre for Historical Studies,
School of Social Sciences
Email:
kumkumroy@mail.jnu.ac.in , kumkumr@yahoo.com
Areas of Interest/Specialization:
Early Indian History, Gender Studies.
Experience:
Teaching at the Centre for Historical Studies, JNU, since 1999 
Awards & Honours:
Sectional President, Ancient History, Indian History Congress, 2009 
Best Peer Reviewed Publications (upto 5):
In which part of south Asia did the early brahmanical tradition (1st millennium B.C.) take its form? Studies in History Vol. IX, 1993.

Marriage as Communication: An Exploration of Norms and Narratives in Early India. Studies in History. Vol. X., 1994. 
Recent Peer Reviewed Journals/Books (upto 3):
The Power of Gender and the Gender of Power (New Delhi, Oxford University Press, 2010) 

A Historical Dictionary of Ancient India. Lanham, Maryland: The Scarecrow Press. (also available in paperback as The A to Z of Ancient India), 2009/2010 

In Search of the Vedic Age, in The Vedas, Hinduism, Hindutva (co-authored with Kunal Chakrabarti and Tanika Sarkar), Kolkata: Ebong Alaap, 2005 (also in Bengali).