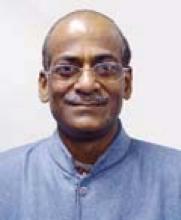 Centre/School/Special Centre:
Group of Adult Education School of Social Sciences
Email:
mcpaul@mail.jnu.ac.in , pauljnu@gmail.com
Qualifications:
B.A. (Hons. In Economics); M.A., M.Phil and Ph.D (in Sociology).
Areas of Interest/Specialization:
Sociology of education; Adult/Continuing education; Youth & Change; Consumer Rights Protection Education; Drugs, youth and Society; Migration and Social Movement.
Experience:
Since 1986 in the Faculty of Adult Education.
Awards & Honours:
Member, Draft Committee of National Youth Policy (1990); 
Nominated for the Post of Regional Director, Commonwealth Youth Programme for the Caribbean Centre, Georgetown, Guyana (1990); 
Conferred the "2004 Higher Education & Development (HEAD) Award; 
International Award "Ambassador for Peace" (2004)
Best Peer Reviewed Publications (upto 5):
1. Dowry & Position of Women in India: A Study of Delhi Metropolis (Inter India Publications, New Delhi, 1986);
2. Dimensions of Tribal Movements in India: A Case of Udayachal Movement in Assam Valley, (Inter India Publications, New Delhi, 1989);
3. Drugs, Youth and Society: An Interdisciplinary Study of Causes and Prevention Strategies, (Madhu Deep Publications, Ed. New Delhi, 1996);
4. Netaji Subhas Chandra Bose: Relevance to Contemporary World, Ed. (Har-Anand Publications, New Delhi, 2000);
5. Consumer Rights Protection & Consumer Redressal System in India, Gyan Books, Delhi, 2016).
Recent Peer Reviewed Journals/Books (upto 3):
1."Colonialism and Tribal Movements in India" in Transformation in India: Ethnopolitics and Identity Crisis, Ed. Buddhadeb Chaudhuri, Vo.III, (Inter-India Publications, New Delhi, 1992);
2. "Dowry as a Symbol of Women's Subordination in India", Social Action, Vol. 42, No.3, July-Sept, 1992;
3. "Bangladeshi Migrants in Delhi: Social Insecurity, State Power and Captive Vote Banks", in Bulletin of Concerned Asian Scholars, (California University), Vol. 27, No. 1 January-March, 1995