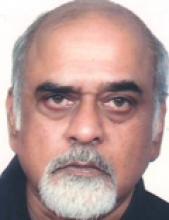 Centre/School/Special Centre:
Centre of German Studies,
School of Language, Literature and Culture Studies
Email:
rdengle@mail.jnu.ac.in , rajoodengle@hotmail.com
Awards & Honours:
DAAD Fellowships to pursue research at the Universities of Bielefeld, Bonn, Bayreuth, Berlin and Wuppertal 
International Collaboration/Consultancy:
Joint research and Translation projects with the University of Wuppertal 
Best Peer Reviewed Publications (upto 5):
* Have jointly translated with Namita Khare Herta Müller's novels: Der Mensch ist ein großer Fasan auf der Welt ("Kaanch ke Ansoo" , 2014) and Atemschaukel ("Bhookh ka Vyakran" , 2014) into Hindi. Vaani Prakashan, Delhi, has brought out these translations with financial support of the Goethe Institute.

* "Fritz Mauthner und Vilém Flusser: Annäherung zweier Prager Intellektueller an die indische Philosophie". In: Indienerfahrung und Indiendiskurse europischer Intellektueller im 20. Jahrhundert; Presses Universitarires de Strasbourg, 2013, p. 27-38.

* "Marathi Literature's Response to Cervantes' Don Quixote - G A Kulkarni's Yatrik" In: Quixotic Encounters (Indian Response to the Knight from Spain), (Ed.) Shyama Prasad Ganguly, New Delhi, 2006, p. 82-97.

* "Schiller's On The Aesthetic Education of Man - Freedom To Do What One Must". In: the Yearbook of the Goethe Society of India (2006), p. 1-14.

* "Ending of the Teaching as the Beginning of Learning: Fritz Mauthner's Der letzte Tod des Gautama Buddha". In: the Yearbook of the Goethe Society of India (2001-2002), p. 89-111.