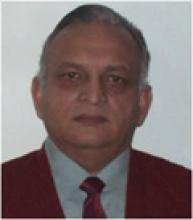 Centre/School/Special Centre:
Email:
sharmadeepak@mail.jnu.ac.in , deepak57in@yahoo.co.in
Areas of Interest/Specialization:
Neurobiology of Ageing and Epileptic brain and its responses to antioxidants 
Experience:
Research-26 yrs; Teaching-16 years  
Awards & Honours:
SRF (CSIR) Sept.1984- May1985 Kurukshetra University, RA (UGC) Aug.1986- Aug.1991 School of Life Sciences JNU,Delhi, IIIrd AGE Award 1989 by International Gerontology Congress held in Acapulco, Mexico, Pool officer (CSIR) Sept.1991- Sept.1994 School of Life Sciences,JNU,Delhi, RA (JNU) July 1996-Feb.2000 School of Life Sciences, JNU, Delhi. Memeber acedemic council, MDU Rohtak. Member executive Council Central University Gujrat, Gandhinagar.
International Collaboration/Consultancy:
Best Peer Reviewed Publications (upto 5):
1. Monika Mishara, Rameshwar Singh, Somnath Mukherjee and Deepak Sharma (2013) dehydroepiendrosterone's antiepileptic action in FeCl3-induced epileptogenesis involves upregulation of glutamate transportes. Epilepsy research (In press)
2. Sharma S, debases Sahu, Hasi Rani Das, Deepak Sharma (2011) Amelioration of collagen-induced arthritis by Salix nigra bark extract via suppression of pro-inflammatory cytokines and oxidative stress. Food and Chemical Toxicology 49(12):3395-406
3. Mishra M, Singh R and Sharma Deepak (2010) Antiepileptic action of exogenous dehydroepiandrosterone in iron-induced epilepsy in rat brain. Epilepsy & Behavior 19 : 264-271
4. Pallavi Sethi, Amar Jyoti, Ejaz Hussain and Deepak Sharma (2009) Curcumin attenuate aluminium-induced functional neurotoxicity in rats.Pharmacol. Biochem. Behav. 93:31-39.
5. Amar Jyoti, Pallavi Sethi and Deepak Sharma (2009) Aging accelerates the progression and manifestation of seizures in post-traumatic model of epilepsy. Neuroscience Lett. 453:86-91. 
Recent Peer Reviewed Journals/Books (upto 3):