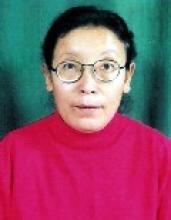 Centre/School/Special Centre:
Centre for International Politics, Organization and Disarmament,
School of International Studies
Email:
yeshi@jnu.ac.in , yeshichoedon@yahoo.com
Areas of Interest/Specialization:
United Nations, Peace, Security, Democratization and Human rights 
Experience:
Teaching sine 1988; teaching and researching since 2004
Best Peer Reviewed Publications (upto 5):
Book
* China and the United Nations (Delhi: South Asian Publishers, 1990).

* Politics of the United Nations Peacekeeping Operations: Resource Mobilisation and Alternative Arrangements (New Delhi: KW Publishers Pvt. Ltd, 2015)

Chapters in books: 
* "Role of India and Australia in the UN Peacekeeping Operations: Convergences and Divergences", in D. Gopal (ed.), India-Australia Relations: Convergences and Divergences (Delhi: Shirpa, 2008)

* "Democratization Aspect of the Peace Building in Afghanistan: The Role of United Nations", in Nalini Kant Jha ed., Democracy, Nation Building and Peace in South Asia: Challenges and Prospects (Delhi:Har-Anand Publications), 2009.

* "Mainstreaming the Gender in Democratization of Afghanistan: The Role of United Nations", in Mondira Dutta ed., Emerging Afghanistan in the Third Millennium (Delhi: Pentagon Press), 2009. 
Recent Peer Reviewed Journals/Books (upto 3):
* "India and Democracy Promotion: Cautious Approach and Opportunity", India Quarterly, Vol. 71, No. 2, June 2015, pp. 160-173. 

* "Indian and Chinese Engagement in UN Complex Peacekeeping Operations: A Comparative Perspective", China Report, Vol. 49, No. 2, May 2013, pp. 205-226. 

* The United Nations Peacebuilding in Kosovo: The Issue of Coordination" International Studies,Vol.47, No.1, January 2010, pp. 41-57.