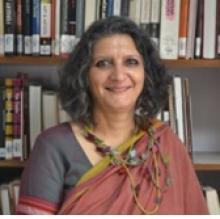 Centre/School/Special Centre
School of Arts & Aesthetics
Room No
004, SAA - I Building
Email
ksingh@mail.jnu.ac.in kavising@gmail.com
Qualifications
PhD, History of Art. Panjab University, Chandigarh, 1996
MFA, History of Art, M S University of Baroda, 1987
BA (Hons), English Literature, Lady ShriRam College, University of Delhi. 1985
Areas of Interest/Specialization
History of museums in colonial and post-colonial India; the global art museum; repatriation; religious objects and secularization of art; religious revivalism and its cultural forms; heritage discourse; historiography of art history; history of Indian courtly painting; Mughal-Rajput artistic interactions; painterly style as vehicle of meaning.
Experience
Dean, School of Arts and Aesthetics, 2017-19
Professor, School of Arts and Aesthetics, 2009 -
Associate Professor at School of Arts and Aesthetics, 2001-09.
Research Editor, Marg Publications, Mumbai, 2000-01
Guest Curator, San Diego Museum of Art, San Diego, California, 1998-2000
Professional Museum Intern at the Asia Society, New York, 1997-98
Visiting Faculty at National Institute of Fashion Technology, New Delhi, teaching Art Appreciation, 1991-97
Guest Faculty at Delhi College of Art, 1989-91
Awards & Honours
Awarded Clark-Oakley Fellowship, Williams College and Clark Art Institute, 2015-16
Head, Partnergroup of School of Arts and Aesthetics and Max Planck Institute-KHI Florenz 2009-12
Awarded Fellowship, Sterling and Francine Clark Art Institute, Williamstown, MA, USA, 2009
Awarded Summer Residency, Kunsthistoriches Institut in Florence, Italy, 2006
Awarded a Major Collaborative Project Grant from the Getty Foundation, to work with Saloni Mathur of UCLA on 'Museology and the Colony' for an empirical and conceptual mapping of museums in the social landscape of South Asia today. 2005 - 2009
Awarded Museum Professional Internship in Asian art at the Asia Society Galleries, New York. Funded by the Henry Luce Foundation and open to museum professionals from Asia, for on-the-job training in an American museum. 1997-98
UK Visiting Fellowship from the Nehru Trust for the Indian Collections at the Victoria and Albert Museum (NTICVA), London, for three months' research in the V&A Museum.1996
Awarded travel grant by ICCR to attend the 14th Conference of the European Association for South Asian Studies, Copenhagen, from the Indian Council for Cultural Relations.1996
Awarded Small Studies (Sterling) grant from NTICVA, London, to order photographic and other research materials from England.1993
Awarded Small Studies (India) grant from the NTICVA, London, for fieldwork in India1993
Awarded University Grants Commission Research Fellowship at the Department of Fine Arts, Panjab University, Chandigarh1989-94
International Collaboration/Consultancy
Member of the India-Europe Advanced Research Network group on the History of Museums established by the Wissenschaftskolleg (Institute for Advanced Studies), Berlin, 2012 -
Member of Advisory Council, Research and Academic Programmes, Clark Art Institute, Williamstown Mass., USA.
Member, Advisory Board, Archives of Asian Art, International peer-reviewed journal published by the University of Hawaii and Asia Society, 2012 -
Advisor to South Asia Initiative, Guggenheim Museum, New York, 2011
Head of Parntergroup between School of Arts and Aesthetics and Max Planck Institut - Kunsthistorisches Institut, Florence, to run a five year project titled "The Temple and the Museum: Cross Cultural Sites of Art". 2009-14
Member, Advisory Board, de Arte, Visual Arts Journal of the University of South Africa Press, 2008-13
Member, Transcultural Visuality Learning Group at the Cluster of Excellence "Asia and Europe in a Global Context", University of Heidelberg, 2010-12
International Advisory Committee of Clark Art Institute Research and Academic Programmes
Best Peer Reviewed Publications
Real Birds in Imagined Gardens: Mughal Painting between Asia and Europe. Getty Research Institute, 2017.
"Ghosts of Future Nations: The Uses of the Holocaust Museum Pradigm in India." in Ruth B Phillips and Annie E Coombes (ed.) Museum Transformations. Blackwell, Oxford, 2015
"The Temple's Eternal Return: Swaminarayan Akshardham complex in Delhi," Artibus Asiae, Vol. 70. no. 1, June 2010.
"Repatriation without Patria: Repatriating for Tibet" Journal of Material Culture 15(2), June 2010
"The Universal Museum: View from Below," in Lyndel V. Prott (ed.) Witnesses to history : a compendium of documents and writings on the return of cultural objects, UNESCO, Paris, 2009
Recent Peer Reviewed Journals/Books