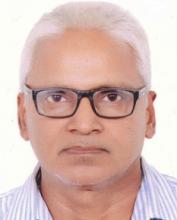 Centre/School/Special Centre
School of Computer & Systems Sciences
Off. Phone
011 - 26738789
Email
rkumarcs@mail.jnu.ac.in, rajeevkumar.cse@gmail.com
Qualifications
Ph.D. (Univ. Sheffield), M.Tech. (Univ. Roorkee), M.Sc. (Univ. Allahabad)
Areas of Interest/Specialization
Machine Learning, Multimedia & Software Systems, Scientometrics & Evo. Combinatorial Optimization.
Experience
Four decades of Experince in Research & Teaching:
Professor, SC&SS, JNU, New Delhi, 2015 - Present.

Professor, CSE, IIT Kharagpur, 2007 - 2015

Visiting Professor, CSE, IIT Kanpur 2013 - 2014

Associate Professor, CSE, IIT Kharagpur, 2000 - 2007

Visiting Associate Professor, CSE, IIT Kanpur 2005 - 2006

Visiting Design Engineer, Nat. Semiconductors Germany, 2002

Professor, CSIS, BITS Pilani, 2000

Associate Professor, CSIS, BITS Pilani, 1997 - 2000

Scientist, Defence R & D Organization, DEAL Dehradun 1986 - 1994

Scientist, Dept. of Sc. & Tech., Survey of India, Hyderabad / New Delhi, 1983 - 1986
Awards & Honours
Test of Time Award (2022) in ACM's iSoft/SigSoft's

Innovations Softw. Engg. Conf. (ISEC) for ISEC's Paper (2011)

Karamveer Award (2013)

Supreme Court hailed as "Unsung Hero" for Improving the IITs Admission Processes (2011)

RTI Citizen's Runner-up Award (2009)

Commonwealth Scholarship (1994 - 1997)
International Collaboration/Consultancy
Principal Consultant, Object Oriented (C#/.NET centric) Courseware Development, Microsoft USA (2002 - 07)

Co-Consultant, Software Tools for Embedded Systems, National Semiconductors, Germany (2003 - 06)

Co-Consultant, Software Tools for CR Processors, National Semiconductors, Germany (2001 - 03)
Best Peer Reviewed Publications
Sonam Chhikara and Rajeev Kumar.

Information-theoretic steganalysis of processed image LSB Steganography

.

Multimedia Tools & Applications 82:

13595 – 13615, 2023.

Springer.

Roopam Sadh and Rajeev Kumar.

Dimensional inadequacy of rankings: Exploring substantial and meta-quality dimensions for HEIs. Academia 26: 25-48, 2022. Higher Edu. Policy (HEP) Net, Europe.

Sonal and Rajeev Kumar.

A unification of heterogeneous data sources into a graph model in e-commerce. Data Science & Engineering 7(1): 57-70, March 2022. Springer.
Akanksha Mukhriya and Rajeev Kumar. Building outlier detection ensembles by selective parameterization of heterogeneous methods. Pattern Recognition Letters 146C: 126 – 133, June 2021.

Elsevier.

Priti Kumari and Rajeev Kumar. Scientometric analysis of computer science publications in journals and conferences with publication patterns. Journal of Scientometric Research 9(1): 54-62, Jan- Apr 2020.

Mahesh Shirole and Rajeev Kumar. UML behavioral model-based test case generation: A survey. ACM SIGSOFT Software Engineering Notes 38(4): July 2013. ACM Press.

Rajeev Kumar and Nilanjan Banerjee. "Analysis of a multiobjective evolutionary algorithm on the 0-1 knapsack problem". Theoretical Computer Science 358 (1): 104 - 120, July 2006. Elsevier.

Rajeev Kumar and PI Rockett. Multiobjective genetic algorithm partitioning for hierarchical learning of high dimensional pattern spaces: a Learning follows Decomposition strategy. IEEE Trans. Neural Networks (Special issue on Hybrid Intelligent Models) 9(5): 822 – 830, Sep 1998.
Recent Peer Reviewed Journals/Books
Soham S. Chakraborty, Rajeev Kumar and PP Chakrabarti. Static Analysis and Optimization of Object Oriented Systems – Concepts and Approaches. 2012. Lap Lambert Academic Publishing GmbH, Germany.

Sanjay Kumar Jena, Rajeev Kumar, Ashok Kumar Turuk, and Manoranjan Dash. Proc. Int. Conf. Communication, Computing and Security (Proc. ICCCS 2011: Edited Vol.), Rourkela, India, February 12-14, 2011. ACM Press.

Sanjay Ranka, Srinivas Aluru, Rajkumar Buyya, Yeh-Ching Chung, Sumeet Dua, Ananth Grama, Sandeep K. S. Gupta, Rajeev Kumar, Vir V. Phoha: Contemporary Computing – 2nd Int. Conf., IC3 2009, Noida, India, August 17-19, 2009. Proceedings 2009 (Edited Vol.). Springer.