'Critic' is a UGC-CARE listed Journal

For more details on UGC-CARE list please click here: https://ugccare.unipune.ac.in/Apps1/User/WebA/ViewDetails?JournalId=101024308&flag=Search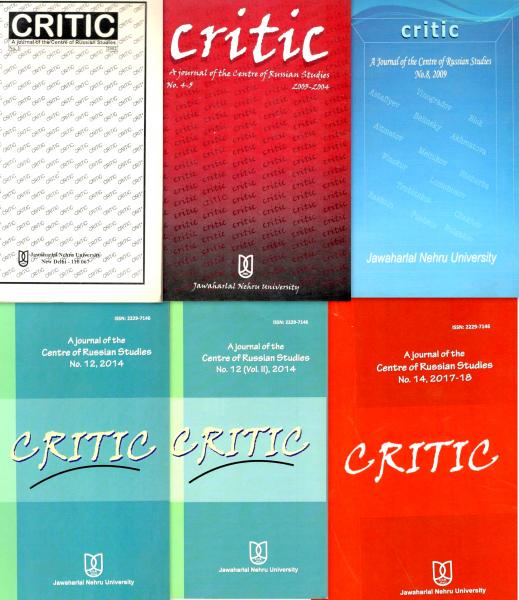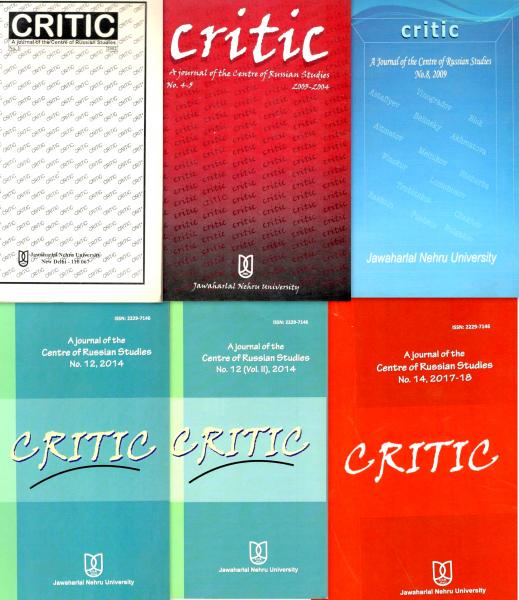 Critic, Journal of the Centre of Russian Studies,
Published by:
Centre of Russian Studies
School of Language, Literature & Culture Studies
Jawaharlal Nehru University
New Delhi -110067
ISSN: 2229-7146
About Critic
The Journal 'CRITIC' was established in 1971 and is being published by Centre of Russian Studies (CRS), Jawaharlal Nehru University, New Delhi, India. The first edition was typed on typewriter and printed by offset method. Today 'Critic' has become a regular annual publication of CRS. The journal investigates into the new horizons, various interpretations, new ideas, reviews, etc. in Russian studies from ancient period to the present day. The areas of research papers are as follow:
Russian Language
Russian Literature
Russian History
Russian Culture
Book Reviews
Interviews
Critical theory
Comparative Studies
Interdisciplinary Studies
Folklore
Aim:
The aim of 'Critic' is to manifest the critical as well as appreciable approach on various perspectives of Russian studies worldwide today. The journal is an effort to encourage and motivate the study of Russian culture among the scholars and philologists. The articles will be published in the journal 'Critic' only after the recommendation of peer-reviewers. The article may be written in Russian, Hindi, English or respective language compared with. The articles should be submitted along with the abstract in English Language. The ISSN number of the journal 'Critic' is: 2229-7146.
The schedule of the Critic is:
Last date of receiving the articles: 30th November.
Acceptance will be sent by first week of March.
The publication of the Journal: 30th June.
Hard copy & E-copy - Online