Management education plays a key role in most systems and institutions, whether it is Education, health, hospitality or manufacturing. In the fast moving and technology driven world of today even religious and family affairs need management consultation on various occasions. However, to meet the existing and emerging challenges, the management education has to be designed innovatively and in consonance with the dynamics of the field. At present, most of the management schools are standalone educational institutions while others are part of a university system. A management institute based in a university, like JNU has an advantage of offering more comprehensive understanding of management and entrepreneurial principles.
Today when our nation is putting every effort to empower its youth, management skills and entrepreneurship assume immense significance. The Atal Bihari Vajpayee School of Management and Entrepreneurship in JNU will carve out a niche for itself and will provide opportunities to our youth to get quality education and training.
The Atal Bihari Vajpayee School of Management and Entrepreneurship (ABVSME), a newly created School in JNU aspires to strive for meeting this goal.
A number of factors are likely to contribute to the success of this school of JNU.
JNU has strong national and international credentials and an enviable brand image. JNU has earned its reputation for its multidisciplinary tradition of teaching & research. The addition of ABVSME to its existing schools will further enhance its image as a centre of excellence.
JNU is located close to industry in Delhi and NCR. JNU's locational advantage will bolster its placement programme.
Message from the Desk of Dean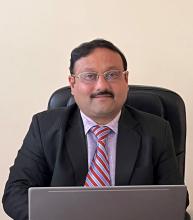 I am thrilled to share with you the remarkable progress that ABVSME has achieved since its establishment in 2018. Over the years, we have made significant strides towards excellence in management education, and we are just getting started. I would like to express my gratitude to our esteemed alumni, faculty, staff, and students for their invaluable support in making ABVSME an outstanding institution.
Our School welcomed its inaugural batch of Masters of Business Administration (MBA) students in July 2019, and since then, we have been dedicated to nurturing their growth and providing them with exceptional opportunities. At ABVSME, our aim is to create a vibrant ecosystem that fosters innovation, entrepreneurship, incubation, and the growth of startups. We believe that these elements are vital for the development of a robust economy and a sustainable society. By providing a supportive environment and the necessary resources, we strive to empower aspiring entrepreneurs and innovators to turn their ideas into successful ventures.
In line with the National Education Policy 2020, we are committed to promoting a holistic and multidisciplinary approach to management education. We recognize the importance of integrating Indian perspectives and values into our curriculum, drawing from the rich Indian knowledge system. By incorporating indigenous management practices and case studies, we aim to nurture a deeper understanding of the local business landscape and encourage students to develop innovative solutions that are rooted in the Indian context.
To achieve our goals, ABVSME has established strong industry partnerships and collaborations. We actively engage with prominent Indian and global organizations to provide students with real-world exposure, industry insights, and experiential learning opportunities. Through internships, industry projects, and guest lectures, students have the chance to apply their knowledge and skills in practical settings, enhancing their readiness for the business world.
We strongly believe in the power of collaboration and have brought together experts from various disciplines under one roof. This multi-disciplinary approach allows us to address present-age business and social challenges through cutting-edge research. By fostering a collaborative environment, we encourage the exchange of ideas and the development of innovative solutions.
Our vision is to become a leading management school in India, collaborating with prominent Indian and global organizations to drive positive societal change through multidisciplinary education and research. To achieve this, we have set forth a mission to create an all-around management learning environment that actively engages students and teachers. By promoting rigorous involvement and industry collaboration, we ensure that our graduates are well-prepared to tackle real-world challenges.
To align our teaching methods with the demands of the business world, we use a case-oriented approach that emphasizes practical applications. This approach enhances the problem-solving and critical thinking skills of our students, enabling them to thrive in the ever-evolving corporate landscape. Furthermore, we are committed to fostering research and innovation, optimizing resources, and promoting co-curricular activities to create a student-centric culture.
Our esteemed faculty and staff are dedicated to their own professional growth, ensuring that they stay up-to-date with the latest research and practices in leadership, management, and social impact. We strongly encourage collaboration across disciplines and departments, as it leads to the creation of interdisciplinary programs and initiatives that address complex societal challenges.
At ABVSME, we strive to foster a sense of teamwork and inclusivity among our faculty and students. By valuing diverse perspectives and creating a supportive environment, we aim to cultivate a spirit of cooperation and mutual respect. We aim to provide high-quality education to aspiring students and empower them to become successful entrepreneurs and business leaders. We are committed to making India a better place through the dissemination of knowledge and the cultivation of entrepreneurial skills.
I welcome you all to embark on this journey of excellence together.