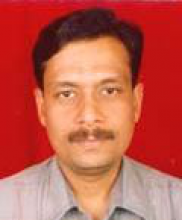 Centre/School/Special Centre:
School of Environmental Sciences
Email:
a_srivastava@mail.jnu.ac.in , srivastava02@hotmail.com
Areas of Interest/Specialization:
Micro physics of aerosols, physical and chemical characterization of aerosols, bio aerosols, indoor air pollution, source apportionment and air pollution meteorology. 
Experience:
School of Environmental Science (SES), JNU, New Delhi
Institute for Methodologies in Environmental Analysis (IMAA), Council for National Research (CNR), Tito Scalo, Potenza, Italy
Department of Environmental Science and Energy Research (ESER), Weizmann Institute of Science, Rehovot, Israel.
Centre for Atmospheric Science, IIT Delhi, New Delhi 
Awards & Honours:
Young Scientist Project under DST's fast Track Scheme in Earth and Atmospheric Sciences. 
Best Peer Reviewed Publications (upto 5):
1. Sandeep Gupta, Krishan Kumar, Arun Sriavstava, Alok Srivastava and V. K. Jain, A study of chemical characteristic and source apportionment of polycyclice aromatic hydrocarbons (PAHs) in coarse and fine size aerosols over Delhi, Science of the Total Environment (Accepted for publication).

2. Arun Srivastava, Sandeep Gupta and V. K. Jain, Winter-time size distribution and source apportionment of suspended particulate matters and associated metals in Delhi, Atmospheric Research, 92 (1), 88-99 (2009).

3. Arun Srivastava and V. K. Jain, Source apportionment of suspended particulate matters in a clean area of Delhi: a note, Transportation Research Part D – Transport and Environment 13(1), 59-63 (2008).

4. Arun Srivastava and V. K. Jain, Size distribution and source identification of total suspended particulate matter and associated heavy metals in the urban atmosphere of Delhi, Chemosphere, 68, 579-589 (2007).

5. Arun Srivastava and V. K. Jain, Seasonal trends in coarse and fine particle sources in Delhi by the chemical mass balance receptor model, Journal of Hazardous Materials,144 (1-2), 283-291 (2007). 
Recent Peer Reviewed Journals/Books (upto 3):
1. Environmental Science and Technology

2. Science of Total Environment

3. Journal of Hazardous Materials