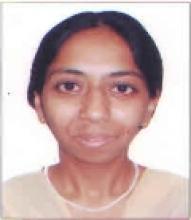 Centre/School/Special Centre:
School of Computer & Systems Sciences
Email:
aditisharan@mail.jnu.ac.in
Qualifications:
Ph.D. , M.Sc. (Computer Science) 
Areas of Interest/Specialization:
Text Mining, Opinion Mining & Sentiment Analysis, Information Retrieval, Natural Language Processing
Best Peer Reviewed Publications (upto 5):
1."An improved intuitionistic fuzzy c-means clustering algorithm incorporating local information for brain segmentation", Hanuman Verma, R.K. Agrawal, Aditi Sharan, Applied Soft Computing 46 (2016) 543-557.
2."A new fuzzy logic based query expansion model for efficient information retrieval using relevance feedback approach", Jagendra Singh and Aditi Sharan,  Neural Computing And Applications, Vol.  28 Issue 9 , September  2017 , pp 2557-2580,  Springer.
3."Relevance Feedback-based Query Expansion Model using Ranks Combining and Word2Vec Approach", Jagendra Singh and Aditi Sharan,  IETE- Journal of Research, Vol. 62 Issue 5, 2016, pp 591-604, Taylor and Francis.
4."Semantic Web oriented framework for knowledge management in Agriculture domain", Nidhi Malik and Aditi Sharan, International Journal of  Web Applications Vol. 8(3), 2016, pp 71-79.
5."Relevance feedback based query expansion model using Borda count and semantic similarity approach",  Jagendra Singh and Aditi Sharan ,  Computational Intelligence   and Neuroscience, Article ID: 568197, pp. 1-14, 2015.
Recent Peer Reviewed Journals/Books (upto 3):
    1. Shashi Mehrotra, Shruti Kohli, Aditi Sharan, "To Identify the Usage of Clustering Techniques for Improving Search Result of a Website", International Journal of Data Mining, Modelling and Management , Accepted for publication.
    2. Singh, Amit, and Aditi Sharan. "Genetic-Fuzzy Programming Based Linkage Rule Miner (GFPLR-Miner) For Entity Linking In Semantic Web." International Journal on Semantic Web and Information Systems , Accepted for publication.