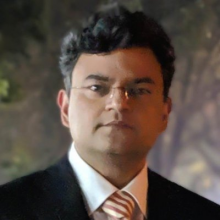 Centre/School/Special Centre
Special Centre for Molecular Medicine
Email
aranganathan@mail.jnu.ac.in
Qualifications
1992 B.Sc. (Hons) Chemistry, St. Stephen's College, University of Delhi, India
1994 B.A. (Tripos) Natural Sciences, Pembroke College, University of Cambridge, UK
1998 Ph.D. (Biochemistry), Pembroke College, University of Cambridge, UK
1998 M.A. (Honorary), Pembroke College, University of Cambridge, UK
Areas of Interest/Specialization
Our laboratory had previously developed a method for laboratory-directed evolution of proteins, called Codon-shuffling. The potential of this method to create stand-alone de novo protein/peptide libraries, for their eventual use as antibacterial and drug-like entities has since been realised. Our laboratory has recently discovered a completely de novo protein M5, that was able to disrupt the ICAM-1 dimer formation in vivo. The presence of ICAM-1 (Intercellular adhesion molecule) is crucial for the progression of diseases like tuberculosis, HIV, and malaria. It was shown that M5 is able to block the entry of P. falciparum into red blood cells by almost 80%. Not only has this discovery opened avenues to study the role of ICAM-1 or ICAM-like molecules in the invasion process, the drug-like potential of M5, or peptidomimetics based on M5, is also being explored.
Using the methods developed earlier in our laboratory, a peptide fragment that can disrupt the crucial ESAT6:CFP10 protein-protein interaction in M. tuberculosis was isolated. The peptide, named HCL2, severely affects mycobacterial growth as well as its cell-wall structure and colony morphology. Mycobacteria expressing this peptide showed a drastic reduction in colony forming units. Efforts are now directed towards exploring the possibility of an HCL2-attenuated M. tuberculosis strain as a viable vaccine candidate.
In a significant advancement, our laboratory has shown that expression of ARPC4, a subunit of the Actin related protein 2/3 (Arp2/3) protein complex, severely affects mycobacterial growth. TEM studies display shedding of the mycobacterial outer-coat. In infected macrophages, mycobacteria expressing ARPC4 were cleared off at a much faster rate, and were unable to mount a pro-inflammatory cytokine response. Additionally, the ARPC4 subunit was shown to interact with Rv1626, an essential secretory mycobacterial protein. Rv1626 was found to also interact with mammalian cytoskeleton protein, Arp2/3, and enhance the rate of actin polymerization. With crystal structures for Rv1626 and ARPC4 subunit already known, the finding lays out the effect of a novel molecule on mycobacteria, and represents a viable starting point for developing potent peptidomimetics.
Experience
1998 - 1999 Post-doctoral fellow, Department of Biochemistry, University of Cambridge, UK
1999 - 2015 Research Scientist, Recombinant Gene Products Group, International Centre for Genetic Engineering and Biotechnology (ICGEB), New Delhi, India
2015 - Associate Professor, Special Centre for Molecular Medicine, Jawaharlal Nehru University, New Delhi
Awards & Honours
Young Scientist, World Economic Forum, for the New Champions Summit, 2012
Young Scientist Medal of the Indian National Science Academy, 2007
Young Scientist Medal of the UDCT, India, 2006
Associate Fellow, Indian Academy of Sciences, 2003-06
Pembroke College Cambridge Scholarship, 1995
Cambridge Nehru Centenary Fellowship, 1992
Best Peer Reviewed Publications
Singh, DK., Dwivedi, VP., Ranganathan, A., Bishai, WR., Kaer, LV., Das, G. 2016. Blockade of the Kv1.3 K+ channel enhances BCG vaccine efficacy by expanding central memory T lymphocytes. J. Infec. Dis. 214, 1456-64.
Bhalla, K., Chugh, M., Mehrotra, S., Rathore, S., Tousif, S., Dwivedi, VP., Prakash, P., Samuchiwal, SK., Kumar, S., Singh, DK., Ghanwat, S., Kumar, D., Das, G., Mohmmed, A., Malhotra, P., Ranganathan A. 2015. Host ICAMs play a role in cell invasion by Mycobacterium tuberculosis and Plasmodium falciparum. Nat Commun. 6:6049.
Samuchiwal, S.K., Tousif, S., Singh, D.K., Kumar, A., Ghosh, A., Bhalla, K., Prakash, P., Kumar, S., Bhattacharyya, M., Moodley, P., Das, G., Ranganathan, A. 2014. A peptide fragment from the human COX3 protein disrupts association of Mycobacterium tuberculosis virulence proteins ESAT-6 and CFP10, inhibits mycobacterial growth and mounts protective immune response. BMC Infect Dis 14:355.
Rao, A., Chopra, S., Ram, G., Gupta, A., Ranganathan, A. 2005. Application of the "codon-shuffling" method. Synthesis and selection of de novo proteins as antibacterials. J Biol Chem 280, 23605-14
Chopra, S., Ranganathan, A. 2003. Protein evolution by "codon shuffling": a novel method for generating highly variant mutant libraries by assembly of hexamer DNA duplexes. Chem Biol 10, 917-26.
Recent Peer Reviewed Journals/Books
Book, fiction: The Land of the Wilted Rose (Rupa, 2012)
Book, fiction: For Love and Honour (Bloomsbury, 2015)
Book, fiction: The Rat Eater (Juggernaut, 2017; co-authored with Chitra Subramaniam)