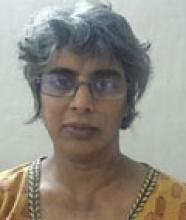 Centre/School/Special Centre:
Centre for Informal Sector & Labour Studies,
School of Social Sciences
Email:
archanaprasad@mail.jnu.ac.in archie.prasad11@gmail.com
Areas of Interest/Specialization:
Contemporary history of adivasi livelihoods, labour and resistance, women and labour, environmental and labour history 
Awards & Honours:
Nehru Fellowship, Nehru Memorial Museum and Library, 2001 to 2005

Rockefeller Fellowship for Environmental History 1994-96, Cornell University.

Indian Council of Historical Research Junior Fellowship 1991 to 1994. 
International Collaboration/Consultancy:
Archana Prasad (Principal Investigator) and R. Gopinath (Co-Principal Investigator), University Grants Commission, Major Research Project, 'Agrarian and Ecological Change and Its Impact on Marginalised People, 1900-2000', 1 April 2007 to 31 March 2011 (Report Submitted October 2011).

Archana Prasad (Project Director), Indian Council of Social Science Research funded Project, 'Analysing Strategies for Community Participation in National Rural Health Mission in Four States', March 2010 to 31 December 2011 (Report completed and submitted in February 2011). 
Best Peer Reviewed Publications (upto 5):
Archana Prasad, 2011. 'Tribal Societies and History Writing in India' in Sabyasachi Bhattacharya (ed.), Approaches to Indian History: Essays in Indian Historiography, Primus Publications and Indian Council for Historical Research, New Delhi. ISBN: 978-93-8060-717-7.

Archana Prasad, 2011. 'The Political Ecology of Shifting Cultivation in Central Provinces' in Mahesh Rangarajan and K. Sivaramakrishnan (eds.), India's Environmental History, Volume 2: Colonialism, Modernity and Nation: A Reader, Permanent Black, New Delhi. ISBN: 978-81-7824-316-0.

Archana Prasad, 2010. 'The Political Economy of Maoist Violence in Chhattisgarh' Social Scientist, Volume 38, Number 3, March-April. ISSN: 0970-0293.

Archana Prasad, 2010. Capitalism, Forestry and Tribal Labour in Central India' Social Action, New Delhi, Volume 60, No 2, April-June. ISSN: 0021-5660.

Archana Prasad, 2009. 'Documenting Women's Voices: Caste, Class and Gender in Tank Associations of Bahour, Pondicherry'. Nivedini: Journal of Gender Studies, Volume. 15, November-December. ISSN: 1391-0027
Recent Peer Reviewed Journals/Books (upto 3):
Archana Prasad, 2011 (Second Revised and Expanded Edition) Against Ecological Romanticism: Verrier Elwin and the Making of an Anti-Modern Tribal Identity, Three Essays Collective, New Delhi. ISBN: 978-81-8878-970-2.

Archana Prasad (ed), 2008. Environment, Development and Society in Contemporary India: An Introduction, Macmillan, New Delhi. ISBN: 978-20-3063 530-2.

Archana Prasad, 2004. Environmentalism and the Left: Contemporary Debates and Future Agendas, Left Word, New Delhi. ISBN: 971-81-8749-644-1.