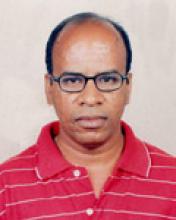 Centre/School/Special Centre:
School of Computational and Integrative Sciences
Email:
chari@mail.jnu.ac.in akchari@gmail.com
Areas of Interest/Specialization:
Computational Biology
Computational Genomics
 Computational Methods using machine learning, information theory, probablistic framework. 
Awards & Honours:
Fulbright fellowship (2002) 
Best Peer Reviewed Publications (upto 5):
Prediction of replication sites in Saccharomyces cerevisiae genome using DNA segment properties: Multi-view ensemble learning (MEL) approach Vinod Kumar Singh, Vipin Kumar, Annangarachari Krishnamachari, Biosystems, 163, 59-69, 2018
Identification and Characterization of ARS like sequences as putative origin(s) of replication in human malaria parasite Plasmodium falciparum, Meetu Agarwal,Krishanu Bhowmick, Kushal Shah, A Krishnamachari, Suman K Dhar., Journal: The FEBS Journal, June 2017
Context based computational analysis and characterization of ARS consensus sequences (ACS) of Saccharomyces cerevisiae genome: VK Singh,A Krishnamachari,, Genomics Data 9, 130-136 (2016)
Urminder Singh, Sucheta Chouhan, A. Krishnamachari and Lovekesh Vig, "Ensemble of Deep Long Short Term Memory Networks for Labelling Origin of Replication Sequences", DSAA, Paris, 2015
Computational prediction of origin of replication in bacterial genomes using correlated entropy measure (CEM), Harsh Parikh, Apoorvi Singh, Annangarachari Krishnamachari, Kushal Shah, Biosystems, 128, 19-25, 2015.
Kushal Shah and A. Krishnamachari. "Nucleotide correlation based measure for identifying origin of replication in genomic sequences", BioSystems vol. 107 (1), 52-55,2012
Kushal Shah and A. Krishnamachari. "On the origin of three base periodicity in genomes", BioSystems, vol.103(3) 142-144,2012
Payal Singh , Pradipta Bandhyopadhyay, Sudha Bhattacharya, A. Krishnamachari and Supratim Sengupta (2009) Riboswitch detection using profile hidden markov models. BMC Bioinformatics, 10 :325
Ilya G. Lyakhov, Annangarachari Krishnamachari and Thomas D. Schneider (2008) Discovery of novel tumor suppressor p53 response elements using information theory. Nucleic Acids Res. 36:3828-3833
S.P. Pandey and A. Krishnamachari (2006). Computational analysis of plant RNA Pol-II promoters. BioSystems 83 p38–50. (Journal impact factor: 1.267 citations: 9)
Karmeshu and Krishnamachari (2004) . Sequence variability and long-range dependence in DNA: An Information theoretic perspective Lecture notes in Computer Science. Vol. 3316, p1354, Springer. 
Krishnamachari, Vijnan moy Mondal and Karmeshu (2004) . Study of DNA binding sites using the Renyi parametric entropy measure. Journal of Theoretical Biology 227 429–436.