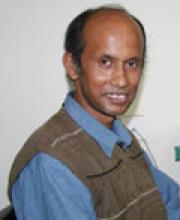 Centre/School/Special Centre:
Areas of Interest/Specialization:
Experience:
14 yrs teaching experience 
Best Peer Reviewed Publications (upto 5):
1. Multivariate sequence analysis reveals additional function impacting residues in the SDR superfamily: Pratibha Tiwari, Noopur Singh, Aparna Dixit, and Devapriya Choudhury, Prot. Struct. Func. Bioinf. (2014); 82:2842–2856

2. Sorting of LPXTG Peptides by Archetypal Sortase A: Role of Invariant Substrate Residues in Modulating the Enzyme Dynamics and Conformational Signature of a Productive Substrate: Tora Biswas, Vijaykumar S. Pawale, Devapriya Choudhury and Rajendra P. Roy; Biochemistry, (2014):2515-2524

3. Complete Inventory of ABC Proteins in Human Pathogenic Yeast, Candida albicans: Manisha Gaur, Devapriya Choudhury and Rajendra Prasad, J Mol. Microbiol Biotechnol (2005),9:3–15

4. Receptor binding studies disclose a novel class of high-affinity inhibitors of the Escherichia coli FimH adhesin: Julie Bouckaert, Jenny Berglund, Mark Schembri, Erwin De Genst, Lieve Cools, Manfred Wuhrer, Chia-Suei Hung, Jerome Pinkner, Rikard Slättegård, Anton Zavialov, Devapriya Choudhury, Solomon Langermann, Scott J. Hultgren, Lode Wyns, Per Klemm, Stefan Oscarson, Stefan D. Knight and Henri De Greve, Molecular Microbiology (2005) 55:441–455

5. X-ray Structure of the FimC-FimH Chaperone-Adhesin Complex from Uropathogenic Escherichia coli: Devapriya Choudhury, Andrew Thompson, Vivian Stojanoff, Solomon Langermann, Jerome Pinkner. Scott J. Hultgren, Stefan D. Knight, Science,(1999) 285:1061-1066
Recent Peer Reviewed Journals/Books (upto 3):
1.Transcriptome Analysis of Arabidopsis GCR1 Mutant Reveals Its Roles in Stress, Hormones, Secondary Metabolism and Phosphate Starvation: Navjyoti Chakraborty, Priyanka Sharma, Kostya Kanyuka, Ravi R. Pathak, Devapriya Choudhury, Richard A. Hooley and Nandula Raghuram, PLOS One (2015) 10(2): e011781

2. G-protein a-subunit (GPA1) regulates stress, nitrate and phosphate response, flavonoid biosynthesis, fruit/seed development and substantially shares GCR1 regulation in A. Thaliana: Navjyoti Chakraborty, Priyanka Sharma, Kostya Kanyuka, Ravi Ramesh Pathak, Devapriya Choudhury, Richard Hooley and Nandula Raghuram, Plant Mol Biol (2015) 89: 559

3. Analysis of stacking overlap in nucleic acid structures: algorithm and application: Pavan Kumar Pingali, Sukanya Halder, Debasish Mukherjee, Sankar Basu, Rahul Banerjee, Devapriya Choudhury and Dhananjay Bhattacharyya, J Comput Aided Mol Des (2014) 28: 851.  
Patents (if any):
1. Anti-bacterial compounds directed against pilus biogenesis, adhesion and activity; co-crystals of pilus subunits and methods of use thereof.: S. J. Hultgren, E. G. Sauer, g. Waksman, K. Fuetterer, D. Choudhury, S.D.Knight and M. Barnhart (2006). United StatesPatent No. 7.041,465 granted on May 9, 2006.