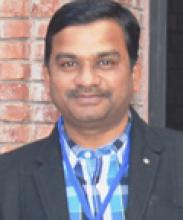 Centre/School/Special Centre:
School of Computer & Systems Sciences
Email:
dpv@mail.jnu.ac.in dpvidyarthi2002@yahoo.com
Areas of Interest/Specialization:
Parallel/Distributed Systems, Cloud Computing, Mobile Computing, Internet of Things (IoT) 
Best Peer Reviewed Publications (upto 5):
A Green Routing Algorithm for IoT enabled Software Defined Wireless Sensor Network, Neetesh Kumar, Deo Prakash Vidyarthi, IEEE Sensors Journal, DOI: 10.1109/JSEN.2018.2869629, IF:2.512
A Truthful and Fair Multi-Attribute Combinatorial Reverse Auction for Resource Procurement in Cloud Computing, Gaurav Baranwal, Deo Prakash Vidyarthi, IEEE Transactions on Services Computing DOI: 10.1109/TSC.2016.2632719,  IF: 2.365
Improved auto control ant colony optimization using lazy ant approach for grid scheduling problem, Pawan Kumar Tiwari, Deo Prakash Vidyarthi, Future Generation Computer Systems, Elsevier, Volume 60, July 2016, pp. 78–89, IF: 2.786
A Cost-Effective Deadline-Constrained Dynamic Scheduling Algorithm for Scientific Workflows in a Cloud Environment, Jyoti Sahni, Deo Prakash Vidyarthi, IEEE Trans. On Cloud Computing, 2015 DOI: 10.1109/TCC.2015.2451649
Reliability Based Channel Allocation using Genetic Algorithm in Mobile Computing, Lutfi M. Omer Khanbary, D.P.Vidyarthi, IEEE Trans. In Vehicular Technology, Vol. 58, Issue 8, 2009. pp 4248-4256, IF: 4.066
Recent Peer Reviewed Journals/Books (upto 3):
Technologies and Protocols for the Future Internet Design: Reinventing the Web: Ed. D.P.Vidyarthi, IGI-Global (USA). Feb. 2012, DOI: 10.4018/978-1-4666-0203-8, ISBN13: 9781466602038, ISBN10: 1466602031, EISBN13: 9781466602045
Scheduling in Distributed Computing System: Analysis, Design and Models, Vidyarthi, D.P., Sarker, B.K. (et al.), Springer, US, December, 2008, ISBN 978-0-387-74480-3.
Auction Based Resource Provisioning in Cloud Computing, Baranwal, G., Kumar, D., Raza, Z., Vidyarthi, D.P., Springer, 2018, ISBN 978-981-10-8737-0