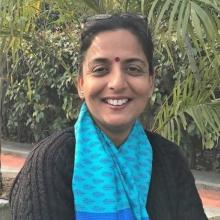 Centre/School/Special Centre:
School of Environmental Sciences
Email:
meenakshi72@hotmail.com, mdua@mail.jnu.ac.in
Qualifications:
B.Sc. Zoology. 1992. Department of Zoology, Hans Raj College, University of Delhi, Delhi
M.Sc. Cell and Molecular Biology. 1994. Department of Zoology, University of Delhi, Delhi
Ph.D. Molecular Biology. 2000. Department of Zoology, University of Delhi, Delhi
Areas of Interest/Specialization:
Molecular Microbial Ecology, Microbial Interactions and Behaviour, Natural Microbial Communities, Environmental Microbial Genomics. Plant-Microbe interactions, Rhizosphere Metagenomics, Sustainable Agriculture
Experience:
1999-2002: Postdoctoral Fellow, Department of Biomedical Research, Saint Elizabeth Medical Center, Tufts University School of Medicine, Boston MA, USA.
2006-till date: Assistant Professor in SES, JNU. Teaching responsibilities include undergraduate and postgraduate teaching:
| | | |
| --- | --- | --- |
| Undergraduate | M.Sc | M.Phil |
| Introduction to Environmental Sciences (ES-301) | Microbial Ecology (ES-223) | Environmental Microbial Genomics (ES-688) |
|   | Current Environmental Issues (ES-115) | Analytical Techniques (ES-654) |
|   | Remedial Biology (ES-102) |   |
|   | Laboratory week in Microbial Ecology |   |
Best Peer Reviewed Publications (upto 5):
1. Johri AK, Oelmüller R, Dua M, Yadav V, Kumar M, Tuteja N, Varma A, Bonfante P, Persson BL, Stroud RM. (2015): Fungal association and utilization of phosphate by plants: success, limitations, and future prospects. Front Microbiol. 16(6):984.
2. Kumar, M, Kumar H, Tuteja N, Dua M and Johri A.K. (2010) Development of electroporation-mediated transformation system for axenically cultivable root endophyte fungus Piriformospora indica. Nature Protocols. http://www.natureprotocols.com/2010/07/22/development_of_electroporation.php
3. Johri A.K, Paoletti, LC, Glaser P, Dua M, Sharma PK, Grandi G and Rappuoli R (2006) Group B Streptococcus: global incidence and vaccine development: Nature Reviews Microbiology 4: (12) 932-942.
4. Dhawan S, Dua M, Chishti AH and Hanspal M (2003) Ankyrin peptide blocks falcipain-2-mediated malaria parasite release from red blood cells. J Biol. Chem. 278(32): 30180-6.
5. Dua M, Raphael P, Sijwali P, Rosenthal P and Hanspal M (2001) Recombinant Falcipain-2 cleaves erythrocyte membrane ankyrin and protein 4.1 Mol. Biochem. Parasitol. 116(1): 95-99. 
Recent Peer Reviewed Journals/Books (upto 3):
1. Prasad D, Verma N, Bakshi M, Narayan OP, Singh AK, Dua M, Johri AK. (2019) Functional Characterization of a Magnesium Transporter of Root Endophytic Fungus Piriformospora indica. Front Microbiol. 9:3231
2. Narayan OP, Verma N, Singh AK, Oelmüller R, Kumar M, Prasad D, Kapoor R, Dua M, Johri AK. (2017) Antioxidant enzymes in chickpea colonized by Piriformospora indica participate in defense against the pathogen Botrytis cinerea.                 Sci Rep.7 (1):13553.
3. Jogawat A, Vadassery J, Verma N, Oelmüller R, Dua M, Nevo E, Johri AK (2016) PiHOG1, a stress regulator MAP kinase from the root endophyte fungus Piriformospora indica, confers salinity stress tolerance in rice plants. Sci Rep. 16(6):36765.