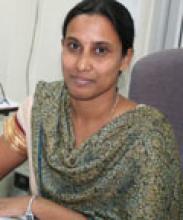 Centre/School/Special Centre:
Email:
msrajala@mail.jnu.ac.in , gmaitri@yahoo.com
Areas of Interest/Specialization:
Molecular Virology, Cancer Biology
Experience:
2008 to present: Assistant Professor, School of Biotechnology, Jawaharlal Nehru University, New Delhi. 
2006 to 2008: Scientific Officer D, Department of Pathology, Tata Memorial Cancer Hospital, Mumbai. 
2005: Post Doctoral Fellow, Virology Group, International Centre for Genetic Engineering and Biotechnology, New Delhi. 
2001- 2004: Post Doctoral Fellow, Dept of Ophthalmology, Dean McGee Eye Institute, Oklahoma University of Health Sciences Center, Oklahoma, USA. 
2000 to 2001: Research Associate, National Institute of Immunology, New Delhi. 
1995 to 2000: Research fellow, Department of Microbiology, All India Institute of Medical Sciences, New Delhi.  
Awards & Honours:
1998: Junior Best Paper Award, XXII National congress of Indian Association of Medical Microbiologists, India 1998
1995 to 1999: Junior Research Fellowship from University Grants Commission, New Delhi 
Best Peer Reviewed Publications (upto 5):
Lal G, Rajala MS (2019). Combination of oncolytic measles virus armed with BNiP3, a pro-apoptotic gene and paclitaxel induces breast cancer cell death. 2019.  Front. Oncol. 8:676, doi: 10.3389/fonc.2018.00676.

Lal G, Rajala MS (2018). Recombinant viruses with other anti-cancer therapeutics: a step towards advancement of oncolytic virotherapy. Cancer gene therapy.2018,  DOI:10.1036/s41417-018-0018-1

Kumar D, Broor S, Rajala MS  (2016). Interaction of Host Nucleolin with Influenza A Virus Nucleoprotein in the Early Phase of Infection Limits the Late Viral Gene Expression. PLoS ONE; 11(10):e0164146. doi:10.1371/journal.pone.0164146

 Xiao J, Natarajan K, Rajala MS, Astley RA,  Butler MG, Ramadan R, Chodosh (2005). Vitronectin: A possible determinant of adenovirus type 19 tropism in the human corneal Epithelium. Am. J. Ophthal., 140: 363-369.

Rajala MS,  Rajala RV, Astley RA, Butt L and Chodosh J (2005). Corneal cell survival in Adenovirus type 19 infections requires Phosphoinositide 3-Kinase/Akt activation. J. Virol., 79: 12332-12341.

Rajala MS,  Sullender WM, Prasad AK, Dar L and  Broor S  (2003). Genetic variability among Group A and B Respiratory syncytial virus strain in India. J. Clin.  Microbiol., 41: 2311-2316.

Natarajan K, Rajala MS and  Chodosh  J (2003). Corneal IL-8   expression following adenovirus infection is mediated by c-Src activation in human corneal fibroblasts, J. Immunol., 170: 6234-624.