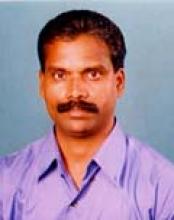 Centre/School/Special Centre:
School of Environmental Sciences
Areas of Interest/Specialization:
Environmental Cancer Biology, Nanotoxicology and Occupational health 
Awards & Honours:
• Received Young Scientist Award from International Union of Radio Science General Assembly (URSI-GA), Toronto, CANADA, 1999.
International Collaboration/Consultancy:
Best Peer Reviewed Publications (upto 5):
1. Paulraj R and J. Behari, Effects of low level microwave radiation on carcinogenesis in Swiss Albino mice, Mol Cell Biochem,248:191-197,2011.
2. Paulraj R and J.Behari, Protein kinase C activity in developing rat brain cells exposed to 2.45 GHz Radiation. Electromagnetic Biology and Medicine, 25:61-70, 2006.
3. Paulraj R and J.Behari, Single strand DNA breaks in rat brain cells exposed to microwave radiation, Mutation Research, 596, 76-80,2006
4. Paulraj R., and J. Behari, Radiofrequency Radiation effect on Protein Kinase C activity in rats' brain, Mutation Research, 545: 127-130, 2004. 
5. Paulraj R., and J. Behari. The effect of low level continuous 2.45 GHz wave on brain enzymes of developing rat brain, Electro-magnetic biology and medicine Vol. 21 (3) 231-241, 2002.
Recent Peer Reviewed Journals/Books (upto 3):
EurAsian Journal of Biosciences