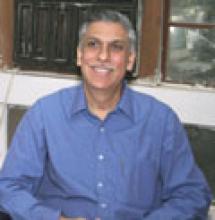 Centre/School/Special Centre:
Email:
rajivbhat@mail.jnu.ac.in , rajivbhat@hotmail.com
Qualifications:
Ph.D. (Biophysical Chemistry), IIT, Delhi (1986)
M.Sc. (Physical Chemistry), University of Jammu (1980)
B.Sc. (Biology and Chemistry), University of Jammu (1978)
Areas of Interest/Specialization:
Aggregation and Amyloid formation in neurodegenerative and other diseases. Discovery of natural products as potential inhibitors and modulators of aggregation-related diseases. Intrinsically disordered proteins and protein homeostasis
Bimolecular Structure and Interactions: Role of water and weak interactions
Use of Chemical Chaperones in controlling protein misfolding and amyloid formation
Structural and functional stabilization of proteins and enzymes by stress-osmolytes and technology development for stabilizing therapeutic proteins      
Experience:
2004-    : Professor, School of Biotechnology, JNU, New Delhi.
1998-2004: Associate Professor, Special Centre for Biotechnology, JNU, New Delhi.
2000-2001: Visiting Scientist, Department of Chemistry and Chemical Biology, Cornell
University, Ithaca, NY, USA.
1990-1998: Assistant Professor, Special Centre for Biotechnology, JNU, New Delhi.
1989-1990: Lecturer, Department of Biochemistry, University of Delhi, New Delhi.
1986-1989: Postdoctoral Associate, Graduate Department of Biochemistry, Brandeis University, Waltham, Massachusetts, USA.
1985-1986: Lecturer in Chemistry, Thapar Institute of Engineering and Technology, Patiala.
Dean, School of Biotechnology, Jawaharlal Nehru University, New Delhi (2009-2011)
Director of Admissions, Jawaharlal Nehru University, New Delhi (2011-2013)
Programme Coordinator, Inter-School project in the area of "Chemical and Synthetic Biology" (DBT-BUILDER) involving five Science Schools of JNU (2012-17)
Secretary, Indian Biophysical Society (2011-2015)
Awards & Honours:
Merit Certificate for I rank in College/University in Pre-University Course,
Merit Certificate for I rank in College B.Sc.
Merit Certificate for I rank in M.Sc. Chemistry
National Merit Scholarship for postgraduate studies
Awarded Junior and Senior research fellowships of IIT, Delhi.
Postdoctoral Research Fellowship of National Institutes of Health (USA).
Young Investigator Travel Award of 'The Protein Society' to participate in their Second Symposium in San Diego, USA, 1988.
Biotechnology Overseas Associateship Award, Department of Biotechnology, Govt. of India, 2000-2001.
Best Peer Reviewed Publications (upto 5):
Comparative analysis of the conformation, aggregation, interaction, and fibril morphologies of human α, β, and γ synuclein proteins, M. K. Jain, P. Singh, S. Roy, and R. Bhat, Biochemistry, 57(26), 3830–3848 (2018).
Resveratrol interferes with an early step in the fibrillation pathway of human lysozyme and modulates it towards less-toxic, off-pathway aggregates, F. K. Zaidi and R. Bhat, ChemBiochem, 19, 159-170 (2018).    
Modulation of human α-synuclein aggregation by a combined effect of calcium and dopamine, M. Jain and R. Bhat, Neurobiology of Disease, 63, 115-128 (2014).    
Efficient refolding of aggregation prone citrate synthase by polyol osmolytes: How   well are folding and stability aspects coupled? R. Mishra, R. Seckler, and R. Bhat J. Biol. Chem., 280, 15553-15560 (2005).     
Why is trehalose an exceptional protein stabilzer?: An analysis of the thermal stability of proteins in the presence of the compatible osmolytetrehalose, J. K. Kaushik and R. Bhat, J. Biol. Chem., 278, 26458-26475 (2003).