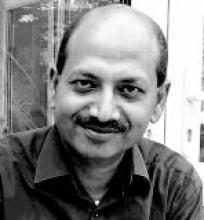 Centre/School/Special Centre:
Centre of Social Medicine and Community Health,
School of Social Sciences
Email:
rdasgupta@mail.jnu.ac.in , dasgupta.jnu@gmail.com
Areas of Interest/Specialization:
Epidemiology, Nutrition, Child Health, Urban Health, Non-communicable Diseases
Experience:
Professor [16.10.2011 till date]
Associate Professor [15.10.2005 till 15.10.2011]
Assistant Professor [15.10.2003 – 14.10.2005]
Centre of Social Medicine and Community Health, JNU
Chairperson, Unversity Sports Committee [18.02.2014 - 17.02.2016]
Deputy Health Officer, Epidemiology Division & Public Health Laboratory
Municipal Corporation of Delhi [06.12.2003 – 15.10.2003]
Awards & Honours:
Fulbright Senior Research Fellow [2010-11] and Visiting Associate Professor, Global Diseases Epidemiology and Control [GDEC], Department of International Health, Johns Hopkins Bloomberg School of Public Health
Member, National Committee for Certification of Polio Eradication, Measles Elimination and Rubella Control
Key Technology Partner Visiting Fellow 2016. Australian Research Centre in Complementary and Integrative Medicine, Faculty of Health, University of Technology Sydney
International Collaboration/Consultancy:
Integrated nutrition, education and environmental interventions through networks of schools and anganwadis in India. Co-Principal Investigator. Medical Research Council UK. 2017-19.
Best Peer Reviewed Publications (upto 5):
Arora NK, Pillai R, Dasgupa R, Garg P (2014). Whole-of-society Monitoring Framework for Sugar, Salt, and Fat Consumption and Non-communicable Disease in India. Annals of the New York Academy of Sciences. Oct 21. doi: 10.1111/nyas.12555.
Rentmeester C, Dasgupta R, Feemster KA, Packard R (2014). Coercion and Polio Eradication Efforts in Moradabad. Human Vaccine and Immunotherapeutics, 10(4).
Asthana S and Dasgupta R (2013). A commentary on Rao et al.'s Which doctor for primary health care? Quality of care and non-physician clinicians in India. Social Science and Medicine, 84: 30-4; DOI: 10.1016/j.socscimed.2013.11.044.
Dasgupta R and Arora N K (2013). An International Perspective on Vaccine Safety, in Chatterjee A ed. Vaccinophobia and Vaccine Controversies of the 21st Century, Springer Publications, New York: 419-38.
Dasgupta R (2012). Urbanising Cholera: The Social Determinants of its Re-emergence. Orient Blackswan, New Delhi.
Recent Peer Reviewed Journals/Books (upto 3):
Dasgupta R and Yumnam V (2017). Conceptual Issues of Conflict as a Social Determinant of Health: Explorations from Manipur  in D. Nambiar and A. Muralidharan (eds.), The Social Determinants of Health in India, DOI 10.1007/978-981-10-5999-5_3.
Dasgupta R, Chaand I, Barla KB (2018). The Slippery Slope of Child Feeding Practices in India. Indian Paediatrics, 55(4):284-6.
Rasanathan K, Bennett S, Atkins V, Beschel R, Carrasquilla G, Charles J, Dasgupta R, Emerson K et al (2017). Governing Multisectoral Action for Health in Low- and Middle-income Countries. PLoS Medicine. https://doi.org/10.1371/journal.pmed.1002285.
Nambiar D, Dasgupta R, Sunadararaman T, Ganesan P, Gupta S  (2016). Reflections on Participation and Knowledge-making as part of India's National Urban Health Mission Technical Resource Group Recommendation Exercise. International Journal of Health Services. Pii: 0020731416661496.