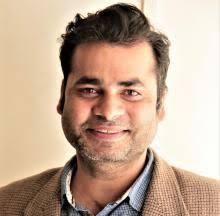 Centre/School/Special Centre
School of Arts & Aesthetics
Email
bprakash@jnu.ac.in, prakash.brahma@gmail.com
Qualifications
Ph.D. in Theatre & Performance Studies, Royal Holloway, University of London, 2014.
M.A. in Chinese Aesthetics and Philosophy, National Central University, Taiwan, 2008.
M.A. in Arts & Aesthetics, Jawaharlal Nehru University, New Delhi, 2005 (one year).
B.A. (Hons) in Chinese Language, Jawaharlal Nehru University, New Delhi, 2004.
Areas of Interest/Specialization
Theatre and Performance Theories; Rites, Rituals and Protest Studies; Regional Theatre and Performance Traditions; Non-Western Aesthetics; Dalits and Adivasi Cultural Performances; Marxism and Culture; Marginalised Cultural Performances, Oral Histories.
Experience
Assistant Professor (tenure), School of Arts & Aesthetics, Jawaharlal Nehru University, New Delhi, July 2012-15 July 2014.
Adjunct Assistant Professor, Centre for Media Studies, School of Social Sciences, Jawaharlal Nehru University, coterminous position with SAA, JNU, New Delhi.
Visiting Faculty, School of Arts & Aesthetics, Jawaharlal Nehru University, New Delhi, July 2014- July 2015.
Awards & Honours
Dwight Conquergood Award of Performance Studies International (PSi), 2013
Central Research Fund Grant of University of London, 2010
Reid Research Scholarship (in the name of Elizabeth Jesser Reid, anti-slavery activist), 2009
Selected for the Republic of China (Taiwan) Government Scholarship, 2005
Junior Research Fellowship/ National Eligibility Test, UGC, 2008
International Collaboration/Consultancy
Member, Peer Review Board, Journal of Artistic Research (JAR) - Society for Artistic Research (2018 to the Present)
Member, Editorial Board, Platform: Postgraduate Journal of Theatre and Performing Arts, 2010-2012.
Best Peer Reviewed Publications
Books
Cultural Labour: Conceptualizing the 'Folk Performance' in India, New Delhi: Oxford University Press, 2019.
Journal Articles/ essays in edited volume
"Dangerous' Choreopolitics of Labouring Bodies: Biopolitics and Choreopolitics in Conflict in the Act of Jana Natya Mandali in India" in Shifting Corporealities in Contemporary Performance: Danger, Im/mobility and Politics, edited by Aneta Stojnic and Marina Gržinic. Palgrave Macmillan, 2018.
"Bidesiya in Bihar; Strategy for Survival, Strategies for Performance," Asian Theatre Journal 33, 1 (January 2016): 57-81

"Review of Theatre in Colonial India: Play-House of Power, Edited by Lata Singh, and Performing Women, Performing Womanhood: Theatre, Politics and Dissent in North India, By Nandi Bhatia." Theatre Research International 37.1 (March 2012): 88-90.

"Review of Theatre of Roots: Redirecting the Modern Indian Stage," By Erin B. Mee. Asian Theatre Journal 27.1 (Fall 2010):175-179.
Recent Peer Reviewed Journals/Books
"The Contingent of Contemporaneity: The 'Failure' of Contemporary Dance to Become 'Political'" in Tilt, Pause, Shift: Dance Ecology in India, edited by Anita Cherian. New Delhi: Tulika Books, 2016.
"Architectures of Fear and Spaces of Hope in Banaras: A City beyond Monolithic Identity," co-authored with B.K. Choudhary. Asian Journal of Social Science, 2016.