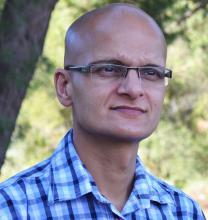 Assistant Professor (UGC)
Centre/School/Special Centre
School of Biotechnology
Email
mksharma@jnu.ac.in , manojdarolia@gmail.com
Qualifications
* Ph.D. Plant Molecular Biology
University of Delhi South Campus, New Delhi, India
* Masters in botanical Sciences
Guru Nanak Dev University, Amritsar India.
Areas of Interest/Specialization
* Plant Genomics and Genetic Engineering
* Functional Genomics
* Feedstock Improvement for biofuels and Stress Tolerance
* Plant Molecular Farming
Experience
* Assistant Professor, 2014 onwards, Crop Genetics and Informatics Group
* Ramalingaswami Fellow, 2014 onwards
* Postdoctoral Employee, UC Davis CA & Joint BioEnergy Institute Emeryville, CA (2009 - 2014)
* Research Associate, DPMB, University of Delhi South Campus, (2007 - 2009)
Awards & Honours
* DBT Ramalingaswami Fellowship 2013
* JRF & SRF of UGC/CSIR Govt. of India 2002-2007
* ​ Associate Editor, Frontiers in Plant Sciences
Best Peer Reviewed Publications
* Mathur S, Umakanth AV, Tonapi VA, Sharma R, and Sharma MK. (2017) Sweet Sorghum as Biofuel Feedstocks: Recent Advances and Available Resources. Biotechnology and Biofuels, 10:146
* Sharma MK, Sharma R, Cao P, Jenkins J, Bartley L, Grimwood J, Schmutz J, Rokhsar D and Ronald PC (2012) A genome-wide survey of switchgrass genome structure and organization. PLoS One, 7 (4) e33892. doi:10.1371/journal.pone.0033892.
* Zhang JY, Lee YC, Jerez IT, Wang M, Yin Y, Chou WC, He J, Shen H, Pennacchio C, Lindquist E, Grimwood J, Schmutz J, Xu Y, Sharma MK, Sharma R, Ronald P, Saha M, Dixon R, Tang Y and Udvardi M (2013) Development of an integrated transcript sequence database and a gene expression atlas for gene discovery and analysis in switchgrass (Panicum virgatum L.). The Plant Journal,74(1), 160-73. doi: 10.1111/tpj.12104.
* Bennetzen JL, Schmutz J, Wang H, Percifield R, Hawkins J, Pontaroli AC, Estep M, Feng L, Vaughn JN, Grimwood J, Jenkins J, Barry K, Lindquist E, Hellsten U, Seshpande S, Wang X, Wu X, Mitros T, Triplett J, Yang X, Ye C, Mauro-Herrara M, Wang L, Li P, Sharma MK, Sharma R, Ronald PC, Panaud O, Kellogg EA, Brutnell T, Doust A, Tuskan GA, Rokshar D, Devos KM. (2012) Reference genome sequence of the model plant Setaria. Nature Biotechnology, 30, 555-561. doi:10.1038/nbt.2196.
* The International Brachypodium Initiative (2010) Genome sequence analysis of the model grass Brachypodium distachyon: insights into grass genome evolution. Nature 463, 763-768. doi:10.1038/nature08747.
* Sharma MK, Singh N, Jani D, Sisodia R, Thungapathra M, Gautam JK, Meena LS, Singh Y, Ghosh A, Tyagi AK and Sharma AK (2008) Expression of toxin co-regulated pilus subunit A (TCPA) of Vibrio cholerae and its immunogenic epitopes fused to cholera toxin B subunit in transgenic tomato (Solanum lycopersicum). Plant Cell Reports 27, 307-318. 10.1007/s00299-007-0464-y.
Recent Peer Reviewed Journals/Books
* Gupta P, Sharma R, Sharma MK, Sharma MP, Satpute GK, Garg S, Singla-Pareek SL, Pareek, A. (2016) Signaling cross talk between biotic and abiotic stress responses in soybean In: Abiotic and Biotic Stresses in Soybean Production, Soybean Production volume 1, Edt. Mohammad Miransari, Elsevier Inc. published on December 31, 2015.
* Sharma AK, Sharma MK (2014) Plants as host for recombinant DNA. In. Gene and its Engineering; Edited by H. K. Das, Wiley India, CBS Publishers, pp 410-433.