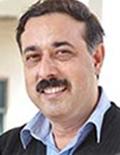 Centre/School/Special Centre
School of Biotechnology
Email
pawandhar@mail.jnu.ac.in, pawan.dhar@outlook.com
Qualifications
Ph.D. 1993: Human Genetics Division, Institute of Medical Sciences, Banaras Hindu University
M.Sc. 1986: Zoology, Department of Biosciences, University of Jammu
Areas of Interest/Specialization
Synthetic Biology applications in health, energy and environment
Experience
(a) Administrative
1. Chairman, Institutional Biosafety Committee, Shiv Nadar University: 1 year
2. Academic Council member, Shiv Nadar University: 1.5 years
3. Director, Centre for Systems and Synthetic Biology, University of Kerala, Trivandrum : 5 years
4. Head, RIKEN, Japan and Tata Consultancy Services, Hyderabad Project: 2 years
5. Management Board, Bioinformatics Institute, A*STAR, Singapore : 4 years

(b) Academic
March 2015 onwards : Professor, School of Biotechnology, Jawaharlal Nehru University, New Delhi
Oct 2013 – Feb 2015: Professor, Synthetic Biology, Dept. of Life Sciences, School of Natural Sciences, Shiv Nadar University, Greater Noida, U.P.
July 2011 – Jan 2013: Professor and Head, Dept of Genetics and Molecular Biology School of Biomedical Sciences, Symbiosis International University, Pune
April 2010 – ongoing: Director, Centre for Systems and Synthetic Biology, University of Kerala, Trivandrum, Kerala
Jan 2006 – Sept 2009: Senior Scientist and Team Leader, Synthetic Biology, RIKEN Advanced Sciences Institute, Yokohama, Japan. Adjunct Faculty, Tokyo Medical and Dental University, Japan
July 2002 – Dec 2005: Senior Scientist & Group Leader, Systems Biology, Bioinformatics Institute, Singapore. Adjunct Faculty, Department of Biochemistry, National University of Singapore
June 2001 – June 2002: Assistant Professor, Systems Biology, Institute of Advanced Biosciences Tsuruoka, Japan, Keio University, Japan
May 2000 – May 2001: Visiting Scientist, Dept. of Radiation Genetics, Kyoto University, Japan
Oct 1997 - April 2001: Associate Professor & Lab Head, Human Genetics Division, Manipal University, Karnataka
Mar 1997 – Sept 1997: Visiting Scientist, Institute for Medical Radiation Biology, University of Essen, Essen, Germany
Oct 1993 - Sept 1997: Assistant Professor & Lab Head, Human Genetics Division, Manipal University, Karnataka
Best Peer Reviewed Publications
1. Shidhi PR, Suravajhala P, Nayeema A, Nair AS, Singh S, Dhar PK.Making novel proteins from pseudogenes. Bioinformatics. 2015: 31, 33-9

2. Dhar PK, Giuliani A. Laws of biology: why so few? Syst Synth Biol. 2010: 4(1):7-13

3. Dhar PK, Thwin CS, Tun K, Tsumoto Y, Maurer-Stroh S, Eisenhaber F, Surana U. Synthesizing non-natural parts from natural genomic template. J Biol Eng. 2009: 3, 3:2

4. Dhar P, Meng TC, Somani S, Ye L, Sairam A, Chitre M, Hao Z, Sakharkar K.Cellware--a multi-algorithmic software for computational systems biology.Bioinformatics. 2004: 20, 1319-21.

5. Meng TC, Somani S, Dhar P.Modeling and simulation of biological systems with stochasticity. In Silico Biol. 2004: 4, 293-309.