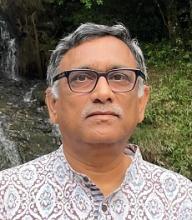 Centre/School/Special Centre
School of Environmental Sciences
Residence
011-26742330, 09910629336
Email
rajunj@mail.jnu.ac.in , rajunj7@gmail.com
Qualifications
B.Sc. (Geol, Phys, Chem) S. V. University, Tirupati 1983
M.Sc. (Geology) S. V. University, Tirupati 1985
M.Phil. (Hydrogeology) S. V. University, Tirupati 1990
Ph. D (Hydrogeology) S. V. University, Tirupati 1991
Areas of Interest/Specialization
Hydrogeology
Environmental Geology
Hydro-geochemistry and Groundwater Pollution (As & F);
Water Resource Management and Rainwater harvesting studies
Experience
2015 – till date : Professor, School of Environmental Sciences, JNU, New Delhi
2009-2015: Associate Professor, School of Environmental Sciences, JNU, New Delhi
2004-2009: Assistant Professor, Department of Geology, BHU, Varanasi
2001-2002: Assistant Professor, Department of Earth Sciences, Asmara University, Eritrea, NE Africa
1994-2004: Geohydrologist, Department of Geology, Sri Venkateswara University, Tirupati
Overall Teaching Experience: 25 years
Overall Research Experience: 30 years
Awards & Honours
Alexander von Humboldt Fellow, Germany (1997)
INSA-Brazil Bilateral Exchange Fellowship (2005-2006)
Guest Professorship - Martin Luther University, Halle, Germany (2012)
Dr Sudarshan Pani-Dr (smt) Rama Dwivedy Medal, ISAG, India (2013)
International Collaboration/Consultancy
Mississippi State University, MS, USA (Department of Geology)
Martin-Luther University, Halle-Wittenberg, Germany (Institute for Geosciences).
Heidelberg University, Heidelberg, Germany (Institute for Environmental Geochemistry).
Federal University of Fluninense, Rio de Janeiro, Brazil (Department of Geochemistry).
Technical Consultant for Hindustan Coca-Cola Beverages (HCCB) to review the hydrogeological and environmental assessment reports for its adequacy and accuracy of the work.
Best Peer Reviewed Publications
Recent Peer Reviewed Journals/Books
Arif Ahamad, N. Janardhana Raju, Sughosh Madhav, Wolfgang Gossel and Peter Wycisk (2018). Impact of nonengineered Bhalswa landfill on groundwater from Quaternary alluvium in Yamuna flood plain and potential human health risk, New Delhi, India. Quaternary International. (Accepted)
M. Parween, AL. Ramanathan and N. J. Raju (2017). Wastewater management and water quality of river Yamuna in the megacity of Delhi. International Journal of Environmental Science and Technology, 14 (10):2109-2124. (DOI 10.1007/s13762-017-1280-8)
Geostatistical and Geospatial Approaches for the Characterization of Natural Resources in the Environment: Challenges, Processes and Strategies (2014). Conference Volume of International Association for Mathematical Geosciences (IAMG), Springer publishers (Editor: N. Janardhana Raju).