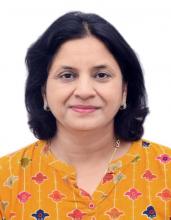 Centre/School/Special Centre
School of Biotechnology
Email
ranjanaa@mail.jnu.ac.in, arya.ranjana24@gmail.com
Areas of Interest/Specialization
Cell Biology of Rare genetic disorders
My laboratory is currently focusing on understanding pathomechanisms of rare neuromuscular genetic disorder, GNE Myopathy with an aim to identify potential drug molecules. The disease is caused due to mutation in key sialic acid biosynthetic enzyme, GNE. However, alternate roles of GNE in cytoskeletal network, ER stress, UPR pathway, autophagy and apoptosis may contribute significantly in disease progression. We have developed mammalian cell based models to understand various cellular processes affected due to GNE mutations and identify relevant drug targets. Key research areas:
Understanding role of GNE in regulating Cytoskeletal Network

Understanding role of GNE in regulating ER stress and protein aggregation via chaperones

Understanding the mechanism of apoptosis and autophagy in pathologically relevant mutants
Experience
2008-present Assistant Professor, School of Biotechnology, JNU, New Delhi
2004-2008 Senior Research Scientist, Ranbaxy Research Laboratories, Gurgaon
2002-2004 Post Doctoral Associate, Carolina Cardiovascular Center, University of North Carolina, Chapel Hill, USA
2001-2002 Post Doctoral Fellow, Division of Rheumatology, Immunology & Allergy, Brigham & Women's Hospital, Harvard Medical School, Boston, USA
Awards & Honours
GRANTS
Currently the lab is funded by grants from ICMR, CSIR and DST . Previous grants from DBT, DAE, DST, SERB, CSIR and ICMR were completed with project completion report and relevant publications.
CSIR-Regulation of muscle Atrophy in GNE deficient skeletal muscle cells: pathological relevance to rare neuromuscular disease; 37/1746/23/EMRII, 2023-2026

ICMR-

Analysis of protein aggregation in

sialic acid deficient cells. 2020-3314". 2020-3314/CMB/ADHOC-BMS Duration 2021-2024

DBT-

Genotype-phenotype relationship in rare genetic disorders: Physicochemical analysis of mutations in GNE myopathy and phenotypic modulation by small molecule. BT/PR22409/MED/12/746/2016
Award/Honour
Assistant Director, UGC-Human Resource Development Centre, JNU, 2018-2020

Young Scientist Award by 88th Annual Conference of Society of Biological Sciences held at Jawaharlal Nehru University, JNU, New Delhi, 2017

Young Scientist Travel Fellowship Award to attend 18th International Congress of Biochemistry and Molecular Biology held in Birmingham, England, 2000.

Junior research fellowship award to pursue doctoral studies and Lecturership (1995) from Council of Scientific and Industrial Research, India.

GATE qualified with a score of 97.34, India. (1996)
Best Peer Reviewed Publications
Yadav, R, Devi, SS, Oswalia, , Ramalingam, S and Arya, R* Role of HSP70 chaperone in protein aggregate phenomenon of GNE mutant cells: Therapeutic lead for GNE Myopathy, 2022, Intl. J. Biochem. Cell. Biol.

https://doi.org/10.1016/j.biocel.2022.106258

Yadav R, Oswalia J, Ghosh A and Arya R* Effect of GNE mutations on cytoskeletal network proteins: potential gateway to understand pathomechanism of GNEM, 2022, Neuromol Med. Doi:

10.1007/s12017-022-08711-4

Sharma, S….et.al. Arya R*. Functional characterization of GNE mutations prevalent in Asian subjects with GNE Myopathy: an ultra rare neuromuscular disorder, 2022, Biochimie, 199, 36-45 doi:

https://doi.org/10.1016/j.biochi.2022.03.014

Chaudhary P, Sharma,S., Singh,R and

Arya R

*

.

Elucidation of ER stress and UPR pathway in sialic acid deficient cells: pathological relevance to GNEM.

J Cell

Biochem

2021 doi:

10.1002/jcb.30148

Devi, SS, Yadav, R, Mashangva, P, Chaudhary, P, Sharma, S and

Arya R*.

Generation and characterization of a skeletal muscle cell based model carrying one single Gne allele : Implications in actin dynamics. Mol. Neurobiol., 2021; doi:

10.1007/s12035-021-02549-w

Devi, SS, Yadav, R and

Arya R

*

.

Altered actin dynamics in GNE mutant ceā

mer's and GNE Myopathy. Frontiers in Neuroscience, Section: Neurodegeneration, 2018

DOI: 10.3389/fnins.2018.00669

Singh, R. , Choudhary, P and

Arya, R

*

. IGF-1 rescues cell death of HEK 293 based model cells for GNE myopathy. Scientific Reports 2018 doi.

10.1038/s41598-018-25510-9

Chanana, P, Padhy, G, Bhargava, K and

Arya, R

*

.

Mutation in GNE downregulates Peroxiredoxin IV altering ER redox homeostasis,

Neuromolecular Medicine

2017, 19 (4), 525-540 doi 10.1007/s12017-017-8467-5

Singh, R and

Arya, R

*

. GNE myopathy and cell apoptosis: a comparative mutation analysis.

Mol. Neurobio

., epub. May 2015, 53,5,

3088-3101

Grover S

,

Aslam S, Sharma V &

Arya R

*

(2014)

Expression and secretion of GNE and its mutants in

Dictyostelium discoideum.

CNS and neurological disorders-DT

(2014), 13:7, 1263-1272

Grover, S and

Arya R

*

. Role of UDP- N -Acetylglucosamine2-Epimerase/ N -Acetylmannosamine Kinase (GNE) in β1-Integrin-Mediated Cell Adhesion.

Molecular Neurobiology,

2014, 50(2); 257-273
Recent Peer Reviewed Journals/Books
Arya R

., Jamal SM, Bora RS., and Saini KS. Optimization of Culture Parameters and Novel Strategies to Improve Protein Solubility. Book_307540_García-Fruitós_Insoluble Proteins_Chapter_3. Springer Science+Business Media New York, Copyright year 2015

Sharma, S, Bora, R, Saini, KS and

Arya R

*

.

Optimizing chaperone removal strategy from over-expressed recombinant proteins: GNE, a case study,

Methods

Molecular Biology, Vol. 2406, Elena Garcia Fruitós and Anna Arís Giralt (Eds): Insoluble Proteins, 978-1-0716-1858-5, 486618_2_En, (Chapter 20)
Patents (if any)
Patent: Arya R, Devi, S, Chaudhary, P, Mashangva, P, Sharma S. A skeletal Muscle cell-based model for GNE Myopathy. Indian application no.: 202011019014. Filing date: 4-5-2020
Patent: Arya, R., Bhattacharya, A., Aslam, S., Bora, R.S., Gupta, S. and Saini, K.S.
Production of purified recombinant human phosphodiesterase in Dictyostelium discoideum
Arya R, Bhattacharya A, Aslam S, Bora RS, Gupta S, Saini KS
Ref. No: IN200701779-I1, Year: 08/2007
Patent: Malik, R., Bora, R.S., Arya, R., Gupta, D., Singh, V. and Saini, K.S.
A reporter gene assay for identifying a compound as selective inhibitor of PDE 4 subtype.
Malik R, Bora RS, Arya R, Gupta D, Singh V, Saini KS
Ref. No: IN200602547-I1, Year: 01/2006