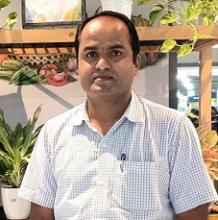 Centre/School/Special Centre
School of Physical Sciences
Room No
Office - 222, Lab - 233
Email
rpprajapati@mail.jnu.ac.in, prajapati.iter@gmail.com
Qualifications
Ph.D.: Vikram University, Ujjain (M.P.) (2010)
Areas of Interest/Specialization
Theory, computational and simulation studies in Astrophysical plasmas, Structure formations in interstellar media, Molecular clouds, Dense stars, Degenerate systems, Gravitational instability, Rayleigh-Taylor instability, Kelvin-Helmholtz instability, Neutrino-plasma interactions in core-collapse supernovae, Dusty (complex) plasmas, Strongly coupled plasmas.
Experience
Associate Professor: School of Physical Sciences, Jawaharlal Nehru University, New Delhi, India (Nov 2020-till date)
Assistant Professor: Department of Pure and Applied Physics, Guru Ghasidas Central University, Bilaspur, India (July 2011 – Nov 2020)
Visiting Associate: Inter-University Centre for Astronomy and Astrophysics (IUCAA), Pune, India (July 2019-June 2022)
Postdoctoral Fellow: Institute for Plasma Research, Gandhinagar, India (Dec 2010 – July 2011) with Prof. Rajaraman Ganesh
Major Research Projects Completed/Ongoing (03): ISRO, Bengaluru; SERB, New Delhi; UGC, New Delhi
Ph.D. Supervised: 02; M.Sc. Projects: 25
Awards & Honours
Visiting Associateship awarded by IUCAA, Pune, India (2019).
JRF in DST, New Delhi funded research project (2007).
Young Scientist in Physics awarded by Vigyan Bharti (2009).
 BUTI Young Scientist Award by Plasma Science Society of India (PSSI) (2009).
DST Fast Track Young Scientist Award (2013).
BRICS Young Scientist, DST, New Delhi (2017)
Association of Asia Pacific Physical Societies (AAPPS-DPP) Best Research Award in Solar/Astro category, Kanazawa, Japan (2018).
Fellowships awarded to present research papers and deliver talks in abroad: DST, New Delhi SPPT Czech Republic (2010); ICTP/IAEA ICTP, Italy (2010); ICPDP, Germany (2011); ITER-ICTP-IAEA, ICTP, Italy (2011); ITC-23 NIFS, Japan (2013); ICPP, Taiwan (2016); APPC-AIP, Australia (2016); AAPPS-DPP, Japan (2016); DST, BRICS, China (2017); APPC, Malaysia (2019).
Referee for peer review process of reputed journals: ApJ (IOP), PLA (Elsevier), PoP (AIP), AP&SS (Springer), PP&CF (IOP), JPP (Cambridge Press), PScr (IOP), Pramana (Springer), CPP (Wiley), EPL (IOP), EPJD (Springer), JA&A (IAS). 
International Collaboration/Consultancy
BRICS Alumni Network among researchers of BRICS Nations.
Member in Advisory Panel of Editorial Board of Physica Scripta, IOP (UK).
KU Leuven, Belgium with Prof. Ronny Keppens
Macquarie University, Sydney, Australia with Prof. Birendra Pandey
Best Peer Reviewed Publications
Self-gravitational instability of rotating viscous Hall plasma with arbitrary radiative heat-loss functions and electron inertia, R. P. Prajapati, R. K. Pensia, S. Kaothekar and R. K. Chhajlani, Astrophys. Space Sci. 327, (2010) 139.
Effect of polarization force on the Jeans instability of self-gravitating dusty plasma, R. P. Prajapati, Physics Letters A, 375 (2011) 2624.
Radiative condensation instability in gravitating strongly coupled dusty plasma with polarization force, R. P. Prajapati and S. Bhakta, Astrophys. Space Sci., 357 (2015) 101.
Influence of dust charge fluctuation and polarization force on radiative condensation instability of magnetized gravitating dusty plasma, R. P. Prajapati and S. Bhakta, Physics Letters A, 379 (2015) 2723.
Gravitational instability of rotating anisotropic pressure quantum plasma, S. Argal, R. P. Prajapati and P. K. Sharma, J. Plasma Physics, 83 (2017) 905830203.
Rayleigh-Taylor instability in non-uniform magnetized rotating strongly coupled viscoelastic fluid, R. P. Prajapati, Physics of Plasmas, 23 (2016) 022106.
Recent Peer Reviewed Journals/Books
Gravitational instability in radiative molecular clouds including cosmic ray diffusion and ion Larmor radius corrections, Ram Prasad Prajapati, Monthly Notices of the Royal Astronomical Society, 510 (2022) 2127.
Dissipation of hydromagnetic waves in the viscous polytropic zone of the solar wind including FLR corrections, ohmic diffusion, and the Hall effect, Ram Prasad Prajapati, E. T. Desta, Mei-Ching Fok, T. H. Eritro, Monthly Notices of the Royal Astronomical Society, 515 (2022) 1444.
Effects of heat-flux vector and Braginskii viscosity on wave dissipation and instabilities in rotating gravitating anisotropic plasmas, E. T., Desta, Ram Prasad Prajapati & T. H. Eritrea, European Physical Journal Plus 137 (2022) 437.
Kelvin–Helmholtz instability in sheared dusty plasma flows including dust polarization and ion drag forces, B. Dolai and Ram Prasad Prajapati, Physica Scripta 97 (2022) 065603.
Effects of cosmic radiation pressure on the gravitational instability of rotating plasmas, Ram Prasad Prajapati and Isha Shailesh, Journal of Astrophysics and Astronomy, 43 (2022) 33.