Event Title
CHS organises a seminar by Dr. Reeju Ray
Event Details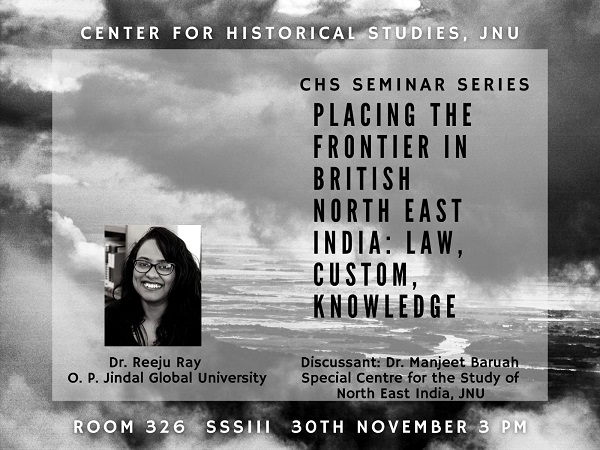 Abstract: In this paper I will discuss the main themes and arguments from my forthcoming book Placing the Frontier Hills in British India: Law, Custom, Knowledge (OUP 2023). By examining the spatiality of law making and indigenous place-making in the north east frontier, the paper unravels the relationships between law, geography, commercial contracts, extra territorial jurisdiction, custom, embodied experience, and identity. The "where of law" as a critical analytic allows a reconsideration of key legal categories such as frontier, British and non-British territory, non-regulation areas, hill tribal, settler proprietor, among others. Inhabitants of the frontier hills examined in this paper were not defined as British subjects while they were incorporated within the colonial legal framework. The paper will show the mechanisms that made law central in the production of a frontier space in British India between late eighteenth and early twentieth centuries. The paper describes the manifestations of law through boundary making, contracts, knowledge production, and customary authority. To understand the nature and outcome of colonial transformation of the north east region into a frontier, the paper delves into the study of the mechanisms of colonial legal spatiality. Henri Lefebvre's complex and thick definition of space as multi-dimensional and political is used in the analysis of the frontier as a colonial spatial project. The paper thus draws attention to the Lefebvre's dialectical triad of physical practices of abstract space (frontier bordering/non-regulation), knowledge and representations of space (colonial classificatory strategies), and the lived realities (heterogenous narratives of historical subjectivities). Each of these aspects are understood through their interactive and simultaneously functioning emergence. Colonial law I argue undergirded these different elements enabling the production of the frontier hills of Garo, Khasi, and Jaintia as distinct from Sylhet.
To show how colonial spatiality impacted lived reality of inhabitants in these hills, the paper draws attention to the process of place making. The frontier hills as place allows a possible entry point into what precedes, interrupts, and mutually constitutes processes and conditions of colonial spatiality through law. Place is not understood in opposition to space, or as an authentic locality. Instead, places are sites of negotiation and thereby non-essentialist by definition. Doreen Massey has warned us about the commonly assumed binary between space (as abstract) and place (as situated). While Mariana Valverde points towards the ontological and methodological privileging of space over time in social theory. The accompanying marginalizing of non-linear, non-western temporalities she suggests is a crucial aspect of the history of law in colonial and post colonial societies. Guided by the ideas of Doreen Massey and Mariana Valverde the paper concludes with a discussion of the tensions and the overlaps between the frontier as a colonial geographic space and the hills as a place of dynamic transformation.
Speaker: Dr. Reeju Ray is an Associate Professor at O.P. Jindal Global University. She has a Ph.D. in History from Queen's University Canada. She has previously taught at the University of Toronto, and Queen's University Canada. Ray held a post-doctoral position at the University of Western Ontario between 2015-2017 funded by the prestigious Social Science and Humanities Research Council of Canada. She is two-time global academy scholar at the Institute of Global Law and Policy, Harvard Law School. Her area of expertise is Southern Asian history and her research interests include legal history, theories of space and place, human geography, gender studies, memory studies, energy studies and global indigenous studies. She is involved in community organizing work in her hometown Shillong and part of the organization Thma U Rangli Juki. She is interested in modes of translating and transferring academic ideas and knowledge for the public. Ray co-founded the media platform called Jamhoor that highlights the ideas and work by academics, journalists, activists, and artists from South Asia and its diaspora. Ray is currently working on a podcast on north east Indian history, and on her new research on law, indigeneity and political economy in contemporary north east India.