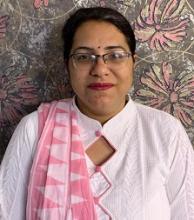 Associate Dean of Students-I
Jawaharlal Nehru University
New Delhi-110 067, India
Off. : + 91-11-26704662
Email: anamikagulati@mail.jnu.ac.in; anamika1711@yahoo.co.in
Hostel allotment - Dormitories, hostel transfer, SR/TR/NR status.


All hostel resident matters, ICC and Proctoral issues.


Yamuna Hostel allotment and Yamuna Hostel sub-committee-management committee.


Subansir MRSH allotment, Mahanadi-SRU allotment of hostel seats to casual students.


Shipra cubic for GSP Students of CSSS-SSS.


Dealing with Legal matters through IHA and Legal cell.


Any other matter referred by Dean of Students.