Programme of the Conference in English
Программа конференции на русском
Информационное письмо на русском: Скачать
Online International Conference
Second Circular
Concept Note
Moving Online: Pedagogical Practices with Safety & Security
 (16-17 May 2020)
UNESCO reports that more than 190 out of 195 countries around the world have closed their educational institutions as preventive measures in fight with Covid-19 pandemic. More than 90% of the world's student population are affected due to closure of their educational institutions. However, the institutions worldwide are making all possible efforts to reach out to their students through various means of technology. Today the remote learning or online learning has become the only saviour to facilitate the continuity of education.
The World Bank is actively working with governments of various countries to support their efforts in utilizing educational technologies to provide remote learning opportunities. Education ministries in most of the countries are working to formulate the policies in order to continue the teaching-learning process in their respective countries. The number of users for online teaching and learning has touched the sky overnight due to pandemic situation worldwide. It has been accepted that the most suitable tool today to support continuity of education is remote learning.
But Online learning has its own challenges. The challenges are emerging due to non-availability of network in remote areas, access to suitable devices for online classes, poor network connectivity, technical training to conduct or attend online classes, etc. These issues can be resolved with the time and training but there is one issue which was there in past, present and will be in future, i.e., security and safety during the remote learning or teaching. In our previous International Online Conference "Online Teaching: Learning for Today and Tomorrow" held on 31st March to 1st of April 2020 various discussion and brainstorming sessions were held on online platforms, teaching methods, experience of online teaching etc. More than 500 participants benefited with learning various tools and techniques to conduct online classes in our recent conference.    
The upcoming International Online Conference "Moving Online: Pedagogical Practices with Safety & Security being held on 16-17 May 2020 is going to discuss the next step in the remote learning, i.e., security and safety while using online platforms, techniques, etc. The Centre of Russian Studies, SLL&CS, Jawaharlal Nehru University along with Namangan State University, Russian Language Teachers' Association, Namangan Region and Bauman Moscow State Technical University, Russia cordially invite you to participate in this conference.
The themes for discussion are:
Best Practices in Online Learning and Teaching
Safety and Security in Remote Learning  
Copyright Issues while using Technology for Teaching
Online Teaching through Mobile Phones
Teaching through Television
Russian Language, Literature, Translation and Culture in Remote Learning
Learning Online: Learners' perspective
Mode of Conference: Online
Languages of the Conference: English / Russian
Registration:
No charges for Registration/Participation/Presentation
Each presentation will be of 15-20 minutes including questions-answers
Registration through online form at: https://bit.ly/3eFO1TL
Last date to register online and sending the abstract is: 12 May 2020
Maximum number of participants is 500 (on First Come First Serve basis as per registration)
The registered participants will receive the link for online access
The conference can be accessed through Laptops/Mobile (Android/iOS)
Participants:
The Teachers/ Scholars working in the area of Foreign Language Teaching
Teachers/ Scholars working in the area of Technology, Information Technology
Scholars working in the area related to the themes of the conference
Certificate and Publication
e-Certificate to the participants will be sent to the respective email address after the conference
The selected articles will be invited to be published in the indexed online proceeding/journal
Organizers
Chairperson

Ranjana Banerjee

 

Coordinators

Kiran Singh Verma

Sonu Saini

 

Aziza Mirzanazarova (Uzbekistan)

Zeev Fraiman (Israel)

Aigul Amitova (Kazakhstan)

Andrei Proletarsky (Russia)

Elena Smirnova (Russia)

 

www.jnu.ac.in/sllcs/crs-events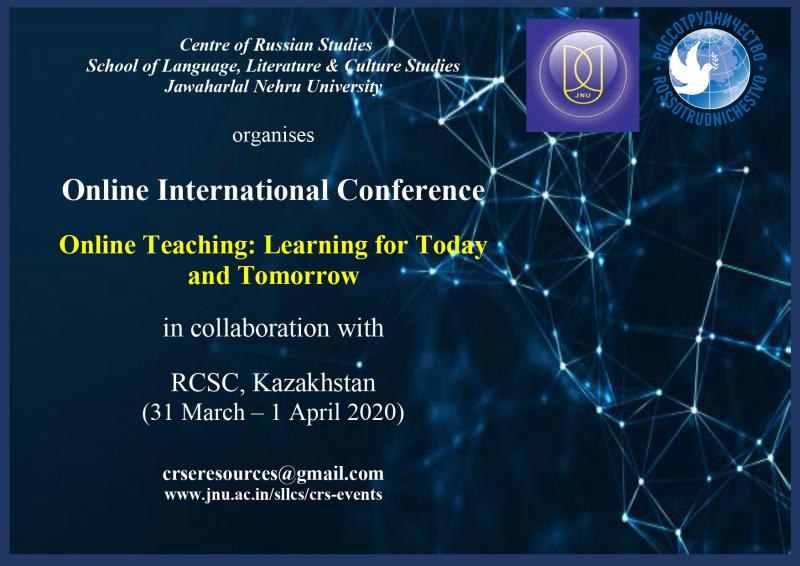 Programme (As per Indian Standard Time)
The previous century has provided us futuristic aspect of teaching and learning through technology. First two decades of the present century has witnessed extensive growth in the use of technology in education across the world. The traditional methods of teaching has become the strong base of the new teaching methods. The technology in education has practically disabled all the barriers or borders between people on the planet. It has proved as savior in difficult times when people are unable to move or gather at one place due to various reasons.
The time has come to acquire some innovative methods of teaching using technology. Such teaching methods enable the teachers or learners barrier free transfer of knowledge and experience. A number of online resources have been developed. The new paradigm of distance education are being innovated using online teaching. Today we have access to various online resources but due to the limitations or other reasons they have not been explored much. There are various platforms for teaching distinctive subjects through technology, and this has become an integral part of education today. For sharing the specific features of these platforms and e-resources, specifically related to Russian language, the Centre of Russian Studies, School of Language, Literature and Culture Studies, Jawaharlal Nehru University, in collaboration with Russian Centre of Science and Culture, Kazakhstan, is organizing an International Conference on Online teaching and learning process. The themes for discussion are:
Online Learning and Teaching
Online Teaching Tools
Online Testing Tools
Innovative teaching methods using technology in FLT
Applications on Android/iOS for learning Russian
Russian Language and Literature through Technology
Russian through Games
Others
Mode of Conference: Online
Languages of the Conference: English / Russian
Registration:
No charges for Registration/participation/presentation
Each presentation will be of 15-20 minutes including questions-answers
Registration through online form at: https://forms.gle/d3DPvvmGUwaUxN857  
Last date to register online and send the abstract is: 28th March 2020
Maximum number of participants is 100  (on First come First Sever basis as per registration)
The registered participants will receive the link for online access
The conference can be accessed through Mobile (Android/iOS or computers)
Participants:
The Teachers/ Scholars working in the area of Foreign language learning (FLT)
Teachers/ Scholars working in the area of technology, Information Technology
Scholars working in the area related to the themes of the conference
Certificate to the participants will be sent to the respective email address after the conference
Organizers
Ranjana Banerjee

Chairperson, CRS, JNU

 

Sonu Saini

Coordinator

Email: crseresources@gmail.com

Elena Smirnova (Russian Federation)

Zeev Fraiman (Israel)

Aigul Amitova (Republic of Kazakhstan

Intizar Shiraz (Republic of Turkey)

 
International Online Poetry Recitation Competition
Information and List of Registered Participants