The Group of Adult Education (GAE) is one of the six special UGC-supported Programmes/Units of the School of Social Sciences (SSS). The GAE is one of the vibrant research, training, information, documentation and publishing nodal centres on literacy, adult education, non-formal education, education and lifelong learning, development education and continuing education across the country. By linking educational research, policy and practice in all these areas, GAE makes a special contribution in enhancing access to learning, and improving the environment and quality of learning in various sub-disciplines of adult education and lifelong learning for all.
GAE provides academic, research, training and consultancy services in literacy, non-formal education, adult and lifelong learning, sustainable livelihoods programme, development education, consumer education and awareness to various stakeholders including citizens, government agencies, and NGOs. GAE works in close cooperation with the National Directorate of Adult Education and Planning Commission (both under Union Government of India) and with its sister departments in the University of Delhi and Jamia Milia and Islamia.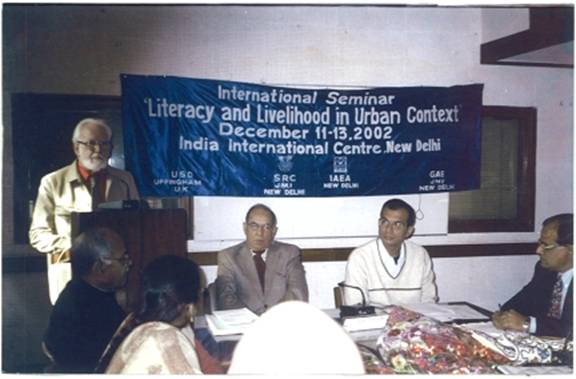 Above: Prof. Alan Rogers (Uppingham Seminars, UK) speaking at the International Seminar. Seated are: Prof. Shahid Mehdi (Vice-Chancellor of JMI), Mr. Jagan Mathew (Director General, National Literacy Mission, Government of India), & Prof S.Y. Shah .
---
Winter Semester 2020 Time Table
List of courses being offered in Winter Semester 2020
Optional 04 Credit Course is offered in the Winter Semester by the Group of Adult Education, School of Social Sciences (Course Teacher: Dr. Ajay Kumar, Room 212, SSS-1 Building)
Course Title: Development Education
Course Code: AE 402
Evaluation: 50% End Semester Written Examination
: 50% Two Term Papers (one could be a Book
Review, plus class presentation

1. The Course is open to all the M.A. (PG) students of JNU.
2. Time table is tentatively scheduled (
Tuesday
&
Thursday
3-5 pm, twice a week, 2 hours each), which is amenable to change as per the convenience of the most number of students.
3. The Course has been highly popular among the GSP students since I started teaching the course for the last one decade.
4. The course structure is flexible and participatory in the interest of students
5. The Course covers interdisciplinary issues in: problems of development and underdevelopment; understanding all kinds of structural inequalities based on caste, class, race and gender along local, regional, national and global axes; causes of poverty, ways and means to overcome various inequalities and other large public (citizen's) problems and issues; community based intervention projects to address and overcome such problems; community mobilization, participatory community planning, management and implementation; creation of sustainable livelihoods and sustainable development; popular and/or alternative education and training for social transformation and capacity building based largely on ideas of M.K. Gandhi and Paulo Freire.
6. The Course is for students intending to become development professionals, change agents, NGO/INGO professionals, policy makers, planners, and local development professionals.