Online Application form for MBA programme for the Academic Session 2023-25 has started
Management education plays a key role in most systems and institutions, whether it is Education, health, hospitality or manufacturing. In the fast moving and technology driven world of today even religious and family affairs need management consultation on various occasions. However, to meet the existing and emerging challenges, the management education has to be designed innovatively and in consonance with the dynamics of the field. At present, most of the management schools are standalone educational institutions while others are part of a university system. A management institute based in a university, like JNU has an advantage of offering more comprehensive understanding of management and entrepreneurial principles.
Today when our nation is putting every effort to empower its youth, management skills and entrepreneurship assume immense significance. The Atal Bihari Vajpayee School of Management and Entrepreneurship in JNU will carve out a niche for itself and will provide opportunities to our youth to get quality education and training.
The Atal Bihari Vajpayee School of Management and Entrepreneurship (ABVSME), a newly created School in JNU aspires to strive for meeting this goal.
A number of factors are likely to contribute to the success of this school of JNU.
JNU has strong national and international credentials and an enviable brand image. JNU has earned its reputation for its multidisciplinary tradition of teaching & research. The addition of ABVSME to its existing schools will further enhance its image as a centre of excellence.
JNU is located close to industry in Delhi and NCR. JNU's locational advantage will bolster its placement programme.
Message from the Desk of Dean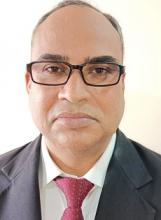 ABVSME began its journey in 2018, and in July 2019 the first batch of Masters of Business Administration (MBA) students joined the School. The teachers and the students have made their unique contributions to these first few steps of ABVSME towards achieving excellence. The School has been built on an extremely strong foundational ethos. It is now ready to welcome its Fourth batch of MBA as well as the second batch of Ph.D.
Atal Bihari Vajpayee School of Management and Entrepreneurship, Jawaharlal Nehru University, seeks to bring holistic learning, thereby nurturing capable and value-driven individuals who will create a better world.
Our goal is to leverage the opportunities for our MBA students, Ph.D. Scholars & Staff. We are committed to bringing in expertise in different areas under one roof and developing multidisciplinary research, that solves the present age business & social problems.
I firmly believe that with the support of alumni, faculty, staff, and students - together, we can make our outstanding School an even better place. Moreover, this endeavor would result in educational and psychological transformations that impact individuals, organizations, and communities.
I'm incredibly proud of the legacy and research-based education that JNU has upheld since its inception. The programs at ABVSME prepare our students for critical transition in society. We at ABVSME also seek to nurture entrepreneurial talent that has the life skills required to lead a path to success.
The School offers excellent opportunities for the students to get the industry perspective by regularly inviting thought leaders from the industry. In addition, at ABVSME, we are fostering strong industry collaborations and partnerships. These collaborations will create tremendous employment, research opportunities and bridge the gap between academia and industry.
The School is guided by the vision of imparting business education and training in entrepreneurial skills for the youth of the country for nation-building and sustainable development. We at the school believe in the empowerment of youth through providing high-quality education, training, promoting innovation, research, and consultancy services. Our mission is to make India a better place based on quality education and entrepreneurial knowledge formation.

I wish you a great learning experience!