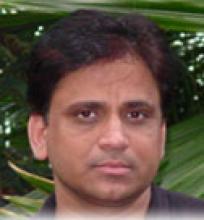 Centre/School/Special Centre:
Email:
ajaysaxena@mail.jnu.ac.in
Qualifications:
Ph.D. in Protein Crystallography 
Areas of Interest/Specialization:
Structural Biology on Disease related proteins, Structure guided Drug/Vaccine development 
Experience:
03/2011- Present Professor, Structural Biology Section, Jawaharlal Nehru University, India.
2005-2011 Associate Professor, Structural Biology Section, Jawaharlal Nehru University, India.
1998-2005 Research Fellow, Structural Biology Section, NIAID, National Institutes of Health, USA.
1996-1998 Postdoctoral Fellow, Institute of Biophysics & X-ray Structure Research, Austrian Academy of Sciences, Austria, Europe  
Awards & Honours:
1. NPG group, Bill & Melinda gates foundation travel award to attend GRC
2. John E. Fogatry International Fellowship, NIH, USA
3. Austrian Academy of Science Fellowship, OAW, Austria, Europe
4. Senior Research Fellowship, DBT, India 
International Collaboration/Consultancy:
1. Dr. Shiv Srivastava, Scientific Director, CPDR, USUHS, USA
2. Dr. David N. Garboczi, NIAID, NIH, USA 
Best Peer Reviewed Publications (upto 5):
1. Saxena, A. K.#, Singh, K., Su, H.P., Klein, M. M., Stower, A. W., Saul, A. J., Long, C. and Garboczi, D. N. (2006). Plasmodium P25 and P28, essential proteins for survival of the malaria parasite in the mosquito are tile-like triangular prism. Nature (Struc. & Mol. Biol.) 13(1), 90-91.
2. C. Chen, A. K. Saxena, W. N. Simcoke, D. N. Garboczi, P. L Pedersen and Y. H. Ko (2006). MITOCHONDRIAL ATP SYNTHASE: crystal structure of the catalytic F1 unit in a Vanadate-induced transition-like state and implications for mechanism (PDB-2F43). J. Biol. Chem. 281 (19), 13777-13783.
3. Saxena, A. K.#, Yimin, W. and Garboczi, D. N. (2007). Plasmodium P25 and P28 surface proteins: Potential malaria transmission blocking vaccines. Eukaryotic Cell 6(8), 1260-1265.
4. A. Manford, T. Xia, A. K. Saxena, C. Stefan, F. Hu, S. D. Emr and Y. Mao (2010). Crystal structure of the yeast Sac1: implications for its phosphoinositide phosphatase function. EMBO J. 29(9), 1489-1498.
5. V. Yadav, M. Kumar, D. K. Deep, H. Kumar, R. Sharma, T. Tripathi, N. Tuteja, A. K. Saxena and A. K. Johri (2010). A Phosphate transporter from the root endophytic fungus P. indica (PiPT) plays a role in the phosphate transport to the host plant. J. Biol. Chem. 285(34), 26532-26544. 
Recent Peer Reviewed Journals/Books (upto 3):
1. Gangwar, S. P., Dey, S. and Saxena, A. K.# (2012). Structural modeling and DNA binding auto-inhibition analysis of Ergp55, a critical transcription factor in prostate cancer. PLoS ONE 7(6), e39850.
2. M. K. Rawal, M. F. Khan, K. Kapoor, N. Goyal, S. Sen, A. K. Saxena, A. M. Lynn, Joel D. A., Tyndall, B. C., Monk6, R. D. Cannon6 and R. Prasad (2013). Insight into PDR ABC pump drug transport through mutagenesis of Cdr1p transmembrane domains. J. Biol. Chem. 288(34), 24480-93.
3. S. Sundararaj, D. singh, A. K. Saxena, P. S. Sijwali, R. Dixit, K. C. Pandey (2012). The ionic and hydrophobic interactions are required for the activation of cysteine proteases of P. falciparum. PLoS ONE 7(10), e7227.